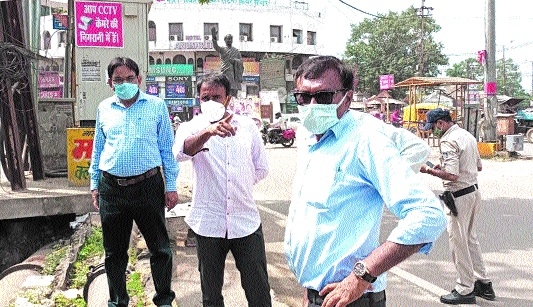 Municipal Commissioner Sandeep G R issuing instructions to senior officials during inspection of civic arrangements.
Staff Reporter :
In view of the ensuing festivals, Municipal Commissioner Sandeep G R, on Monday, directed all concerned senior officials to ensure required arrangements. He, along with senior officials, inspected a number of areas of the city and isued directions. Commissioner Sandeep G R said senior officials should discharge their responsibilities with full dedication so that the city looks clean, green and beautiful. He asked the Executive Engineer PWD to improve the condition of all major roads of the city before ensuing festivals. Apart from that he also directed the Executive Engineer of Water, Light and Health department to further strengthen the sanitation, water supply and street light arrangement.
During inspection, the Municipal Commissioner has also directed senior officials to remove mutilated banners, posters and hoardings from public places. Sandeep G R asked Assistant Commissioner Ved Prakash ensure that the Hoarding department must remove the banners and hoardings from poles and other public places at the earliest. He also directed senior officials to visit respective areas and provide support in the action. Despite holiday, on Monday, the Municipal Commissioner inspected many areas including the route from Retnaka to Gwarighat, Katanga crossing, Naudra Bridge, Civic Center, Golbazar, Shrinath ki Talaiya and surrounding areas. Officials present included Executive Engineer Kamlesh Shrivastava, R K Gupta, Health Officer Bhupendra Singh, Divisional Officer and Executive Engineer Shailendra Mishra, Assistant Health Officer Anil Bari and others.