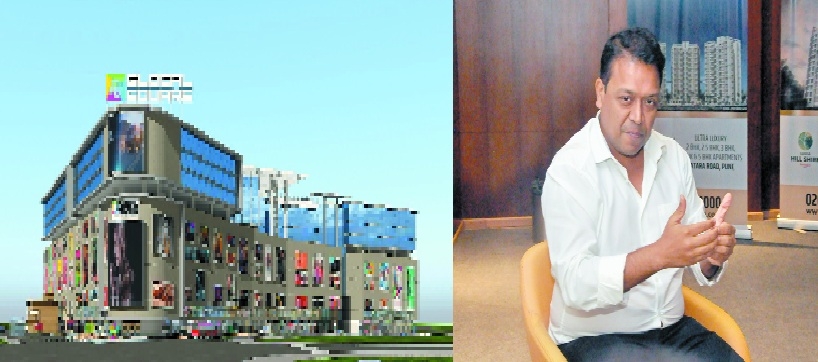 Business Bureau :
The Pune-based real estate company - Goel Ganga Group - developing state-of-the-art Glocal Mall in the heart of the city in Sitabuldi on Monday said that it has completed construction of shops facing Abhyankar Road and Sitabuldi Main Road wherein the occupants may start business activities within next two months. Atul Goel, Managing Director of Goel Ganga Group said that the redevelopment work of the old shops that were demolished earlier are ready in its new avatar. "We are expecting to see the commercial area buzzing once before the festival of the Diwali," he told The Hitavada. The group is developing the retail infrastructure project on a 6.5 acre piece of land in the city's prime location with an estimated cost of more than Rs 850 crore.
The project was supposed to be over by the end of the current year. However, it got delayed because of the pandemic. But Goel said, "The project is now all set to take off. We are confident to complete it by 2023 which will be a game changer in the retail infrastructure in the region." He said, 2.5 lakh footfalls per day are expected in the mall from Metro Station while 1.5 lakh footfalls per day are expected to visit the destination from the Sitabuldi area. This mall has connectivity with Nagpur Metro Interchange, Railway Station and Bus Terminus. The company is building basement parking area, mezzanine, lower ground floor, ground floor and five floors in the first-of-its-kind complex in Central India. More than 3,000 shops including 981 mini-shops for hawkers and a 10-screen multiplex are coming up in the mall. It will have a huge parking space. The Goel Ganga Group has been putting together an innovative mix of technology, systems, processes and people to achieve this. Glocal Mall is one of the finest works by the group.
Huge yet accessible, are the only words for it. One can easily note the world-class amenities which are changing face of retail industry in Nagpur. All leading brands for men, women and kids are expected to arrive here under one roof. 24x7 operations approved under the Retail Economic Policy (2016), car lifts and ramp ways for quick access to parking on every floor, 24x7 CCTV security and surveillance, seating areas for shoppers, recreation garden area, roller coaster, bars, pubs, fine dining restaurants and entertainment are some of the main features of the project. The group has been in the field for about 40 years now and has to its credit over 100 completed projects.