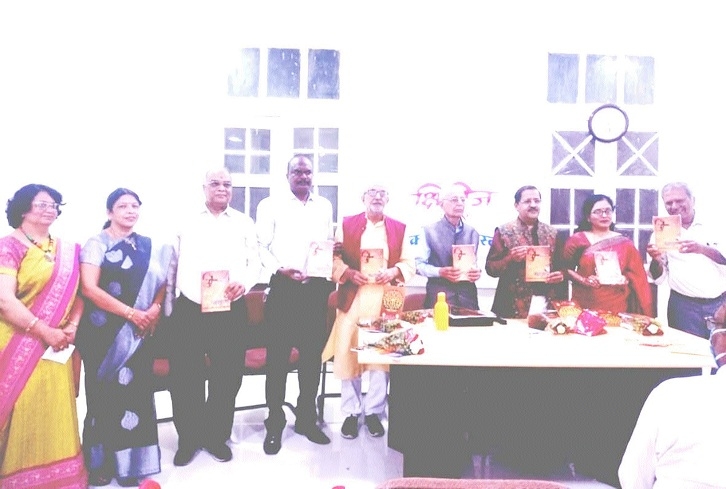 Senior litterateurs launching the book 'Idhar Hona Ek Mahapurush' at Sahitya Academy in Bhopal on Monday.
Staff Reporter ;
"The author of any literature is an expert of that subject and he can also criticise his work with proficient skill and ability. If the satirist himself criticises his satirical works, then that critique emerges with utmost expertise in that subject and then presents it in a fair manner on that subject. The ability to be an expert is not God-gifted; hence it is important to discuss expertise in the literature." The above views were expressed by Director of Sahitya Academy Vikas Dave in a discussion seminar on Ashwini Kumar Dubey's satire 'Idhar Hona Ek Mahapurush' organised by the city's literary organisation 'Kshitij'. Presiding over the programme, senior litterateur Suryakant Nagar opined, "The purpose of writing is to write for the welfare of the society and it is essential to possess compassion. If a writer addresses the society in his writing, then it is his own work.
How the writer thinks and incorporates his thinking in his writing is very important in the writing for any genre." Literary writer Mahesh Dubey said, "Dubey's euphoric skill is highlighted in these satirical works. In many articles, he has discussed literature in politics and Indian perspective on the growing age of democracy. At the same time, the significance of literature, art and language is decreasing continuously, which is a matter of grave concern. A capable litterateur re-invents the story told and emits it in his unique style.
This satirical article by Ashwini invites the readers to join the journey of finding the way." Reviewing the book, storyteller Garima Sanjay Dubey said, "The greatest need of the satirical genre is such a vision, which can show that it can find darkness even in the light, it is a grain-picking skill like removing the pebbles from the whole grain. Satire is in fact sophistication, a method of cleaning and an attempt to purify the grain by tearing it." Shedding light on introduction of the book, Chandrabhan Rahi, editor of Amrit Darpan Bhopal said, "A writer constantly tries to establish himself as a creator by writing and writing consistently will help him establish at that place." Initially, President of the institution, Satish Rathi introduced the institution. The guests were presented with souvenirs and Saraswat Samman was awarded to Vikas Dave. The program was conducted by Seema Vyas and the vote of thanks was verbalised by Vijaya Trivedi.