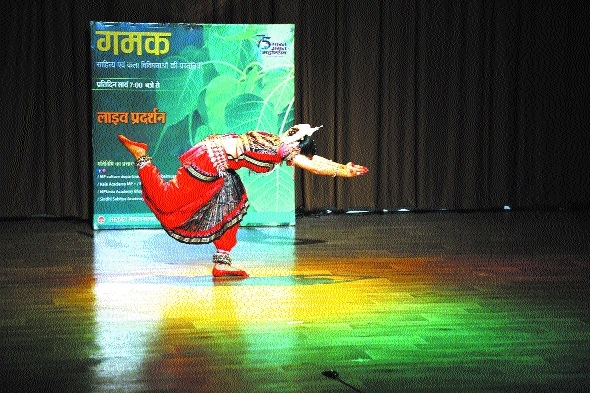 Artist Anusha Jain from Indore presenting Odissi dance under the online 'Gamak' series in Bhopal on Monday.
Staff Reporter :
August's concluding week opened to the soulful program presented by Directorate of culture under the online-aired Gamak series on Monday. On one hand, Indra Pandey and team from Jabalpur delivered the euphonious Lok Gayan performances, while Anusha Jain from Indore was witnessed performing Odissi dances. The performances went live on the YouTube channel and Facebook page of the department. Lok Gayan performances hailed the commencement of Monday's programme, under which Indra Pandey and team lifted their voice on the Bambuliya song 'Narmada Maiyya', folk song dedicated to Lord Krishna 'Janam lihin ho', Dadariya 'Raat ruk ja', 'Gaadi van more saiyya' and halted the performance with the Kaya song 'Ja din hasa'.
The programme continued its cultural spree with Anusha Jain taking over the stage to present Odissi dance. She began the performance with the Pallavi dance. Her performance was based on Raga Arbi, Taal Ek Tali and Jaati Chatushra. Pandit Bhuvneshwar Mishra was the composer of the music incorporated in the dance performance. Pallavi dance implies growing or flourishing with a gentle spirit. Both the singing and dancing styles are gentle in Pallavi dance. In this, priority is also given to Taal and Chhand. Anusha's second performance encompassed the Mohana Pallavi dance, which was based on Raga Mohana, Taal Tripta and Jati Mishra. Post this, the final performance involved Moksha dance, which was based on Taal Ek Tali and Jaati Chatushra. Tuesday's Gamak series will witness the programme presented by Tribal folk Arts and Dialect Development Academy, under which Ramchandra Ganguliya and team, Ujjain will voice the Malwi Swaraj songs, followed by Malwi dances by Soni Malviya and team, Rajgarh. The performances will go live on the YouTube channel and Facebook page of the academy.