Raunak is Vidarbha's first Super GM Crosses 2600 ELO mark which nobody from Vidarbha has ever reached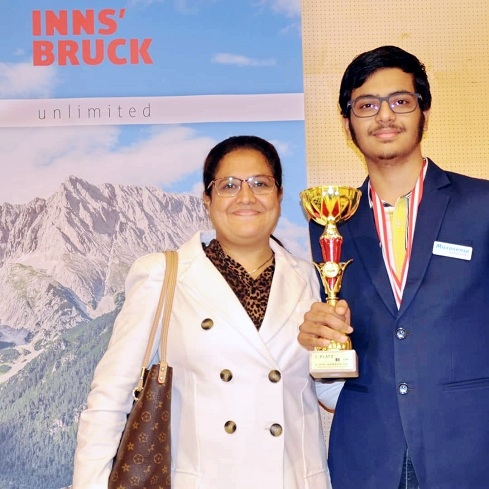 Raunak Sadhwani hold his trophy posing with mother Heena.
Sports Reporter :
RAUNAK Sadhwani has put Nagpur and Vidarbha on world chess map becoming the first player from the region to cross the 2600 ELO mark gaining the status of a Super Grandmaster. The title win at the Innsbruck International Chess Festival that concluded in Austria, the 15-year-old gave a performance rating of 2692 and earned 10.1 Elo rating points crossing that magical mark of 2600. A couple of week ago, Sadhwani had bagged a title in Italy on his Europe sojourn. Maharashtra's youngest GM Sadhwani started the month with an Elo rating of 2579 in the standard format of chess. As per individual rating calculations on the website of International Chess Federation (FIDE), he earned 23.5 Elo points to take his tally to 2602.5. Now, he will be treated as a Super Grandmaster.
In the Austrian meet, Sadhwani played in Open A category. Seeded second, he started the nine-round meet with five wins in a row before splitting the point with top seed GM Ragger Markus of Austria. He went on to win two rounds and then shared the point in his last but one match to finish on top of the table with eight points. Sadhwani was elated with his win and more so for crossing the 2600 mark. "I am really delighted and feeling great to be in the 2600 club. I set a short-term goal for myself before leaving for Europe and have successfully achieved it," an elated Raunak said, adding, "Big thanks to my mother for being a strong pillar, motivating me and helping me to handle all ups and downs." It is learnt that Sadhwani's coaches have already set a new target for him — of crossing the 2700 mark.