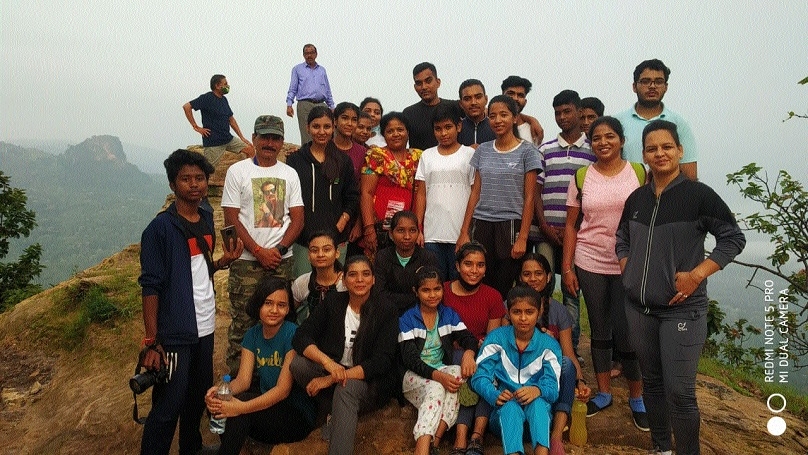 Bhavna Dehria with children and colony members during the Hill Walk Trekking from Block Colony to Lal Pahari Tamia on the occasion of National Sports Day.
Our Correspondent :
PARASIA (Chhindwara),
Bhavna Dehria (29), a resident of Tamia development block of Chhindwara district, created history in year 2019 when she first stepped on Mount Everest. She then became the first woman from Madhya Pradesh to scale the world's highest peak. National Sports Day is celebrated in different countries to honour the national sports teams and the sports symbols of those countries. On this day people of different age groups participate in sports like Kabaddi, Marathon, Basketball, Hockey etc. and also start mountaineering. On the occasion of National Sports Day, she shared her experience of mountaineering from Block Colony to Lal Pahari Tamia in Hill Walk Trekking with the students and told that this journey was full of adventures and dangers, even on their lives.
Every moment in his journey was a threat to his life. The weather, the tough climbs were a challenge at every step. But Bhavna accepted every challenge and went on climbing the Himalayan mountain range with a strong intention of holding her family's photo in hand. Bhavna then wrote after conquering Everest, 'This journey from the deep ditch Patalkot to the highest peak Mount Everest is very exciting. Sometimes the cold that smothers the bones, sometimes the dead bodies covered in snow. Sometimes such a whirlwind of winds that blew away, despite the fear of swinging in the depths of the crevasses, she hoisted the tricolor on Mount Everest on 22 May 2019. Bhavna's name has also been recorded in the Guinness Book of World Records. She was given this award for her efforts in collaboration with Mountains of India on 15 August 2020 to promote the Indian Himalayan mountain range across the world.