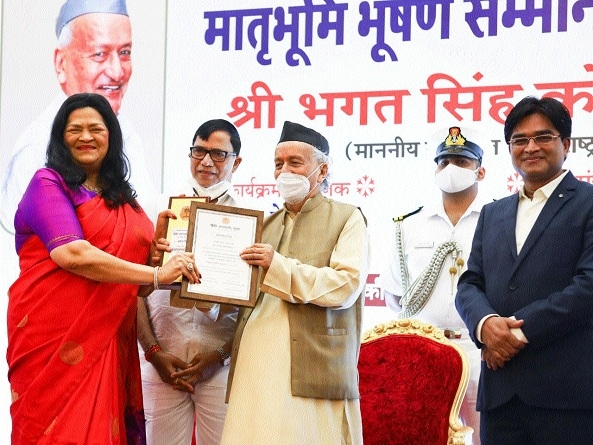 Dr Grace Pinto receiving the prestigious award at the hands of Maharashtra Governor Bhagat Singh Koshyari.
Staff Reporter :
Dr Grace Pinto, Managing Director of the Ryan International Group of Institutions was presented wth the 'Shiksha Bhushan Sanman 2021' by Governor of Maharashtra Bhagat Singh Koshyari, during the Matrubhoomi Bhushan Award ceremony organised by the Hindi Academy at Raj Bhavan, Mumbai.
The event was organised to celebrate the spirit of leadership in different spheres of life and honour the veterans of the armed forces in various fields for their service to the nation. Dr. Grace Pinto was awarded for her noteworthy contribution to the segment of education. She strongly advocates the use of emerging trends to make education more equitable, engaging and meaningful. While receiving the award, Dr. Pinto expressed, "I thank our Lord Jesus Christ for this ecognition. It is the vision and leadership of Institution's chairman, Dr. A. F. Pinto and the good wishes of the stakeholders that has gotten us such recognition.
The Ryan Group continues to make significant contribution in the segment of education by empowering youth – the future of our society." Former Maharashtra Government Home Minister, Kripashankar Singh, Director, Ryan Group, Dr. Snehal Pinto, the President of the Hindi Academy, Dr. Pramod Pandey and Vice President, Alok Chaubey and other dignitaries were present on the occasion.