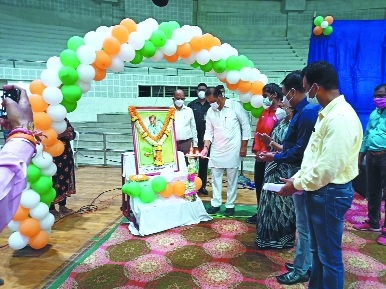 Sports Minister Sunil Kedar lighting the traditional lamp.
Sports Reporter ;
PRAISING the performance of Indians at the recently concluded Tokyo Olympics, Maharashtra Minister for Sports and Youth Affairs Sunil Kedar said that Sports University, coming up in Pune later this years will churn out winners. Kedar was delivering his presidential speech during National Sports Day celebration organised by District Sports Office at Mankapur Stadium. Collector Vimala R was chief guest on the occasion. "Nagpur district will play host to Rashtriya Yuwa Mahotsav from January 12-19, 2022. State will provide all help in making of top sportspersons and coaches," Kedar said. Ganesh Kohale, Deputy Director Shekhar Patil, DS Avinash Pund, Pawan Meshram, Bharti Neralwar, a host of players representing different sports and sports lovers were present.
The function was conducted by Maya Duble while Abhay Mahalle proposed a vote of thanks. Dr Ambedkar Academy DR AMBEDKAR College Sports Academy (DACSA) celebrated National Sports Day organising various tournaments. Bhadant Aryanagarjun Surai Sasai, President of Parampujya Dr. Babasaheb Ambedkar Smarak Samiti presided over while chief guest Shekhar Patil inaugurated the function. Patil encouraged players for more participation in events and briefed them about various facilities and opportunities provided by the government. Pramod Tabhane, Chairman, Sports Committee, NMC; Dr Ram Thakur, Dr Sudhir Fulzele, Dr AP Joshi, Dr Deepak Borkar, Prof Kunal Patil were prominently present.
The function was attended by large number of players and parents. HTKBS holds run HINGNA Taluka Krida va Bahuuddeshiya Sanstha (HTKBS) organised a 5km run to mark the birthday of Major Dhyan Chand. Rajesh Bhute was chief guest of the prize distribution function. Ganesh Sahare, Ashok Kumbhre, Manoj Pudke, Mukul Billore, Rajat Bhokre and Sagar Kaikade graced the occasion. HTKBS athletes Poonam Wakde conducted the proceedings while Vidhi Parihaar proposed a vote of thanks. VWHA Vidarbha Women's Hockey Association celebrated National Sports Day at Tiger Gap Ground with enthusiasm. Shekhar Patil was chief guest on the occasion while Mamta Trivedi presided over. Former Mayor Sunil Agrawal was guest of honour. Sunil Madne, Kanhaiyya Fulsunge, Pramod Jain, Shaila Sakhare, Vinod Pande, Ravi Shripatwar, Sheetal Singh Thakur, Vinod Trivedi were among those who attended the function.