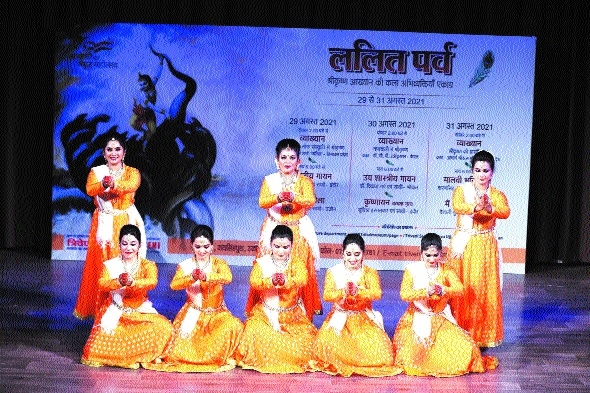 The artists presenting Krishnayan Kathak dance at the Triveni Art and Archaeological Museum, Ujjain on Monday.
Staff Reporter :
On the auspicious occasion of Krishna Janmashtami, a three-day 'Lalit Parv' focused on the art manifestations of Lord Krishna has been organised at Triveni Art and Archaeological Museum, Ujjain by the Culture Department, Government of Madhya Pradesh. The event will be in force from August 29 to 31. On the second day of the programme, Cultural artist Divyata Garg and team took charge of the stage to vocalise the Upshastriya Gayan. The artists voiced their mellifluous renditions of the Meera Bhajan 'Main to Saanvre ke Rang', Soordas' musical composition 'Shyam Tori Murali Madhur', Gurunanak Dev's song 'Sumiran Kar Le Mere Mana' and various other Bhajans and religious songs. They put the performance to rest with Soordas' composition in Bhairavi Raag 'Re mann moorakh janam gavayo'. Following the Upshastriya Gayan, the Krishnayan Kathak dances were the next performance on the list, which were delivered by Suchitra Harmalkar and team from Indore.
During the course of the performance, four different phenomenal incidents related to Krishna's life were presented on the stage, which involved Ashtapadi, Meera's dedication, Draupadi's disrobing incident and holding the Govardhan mountain were portrayed. Post this, they staged another Kathak dance performance on the Jhoola song "Jhoola dhire se jhulaao re" on the occasion of Sawan. The team concluded the performance with the portrayal of Dashavatar, i.e. portrayal of ten prominent incarnations of Lord Vishnu. Tuesday's cultural programme will include discussions by Acharya Shrivatsa Goswami from Uttar Pradesh on the life and role of Lord Krishna at 2 pm. Following this, the dance drama 'Main Krishna' and 'Malvi Bhakti Geet' will be staged by Ujjain's artist Karan Singh Gurjar and fellow mates, under the direction of Vaishali Gupta from Bhopal, which will begin at 5.30 pm.