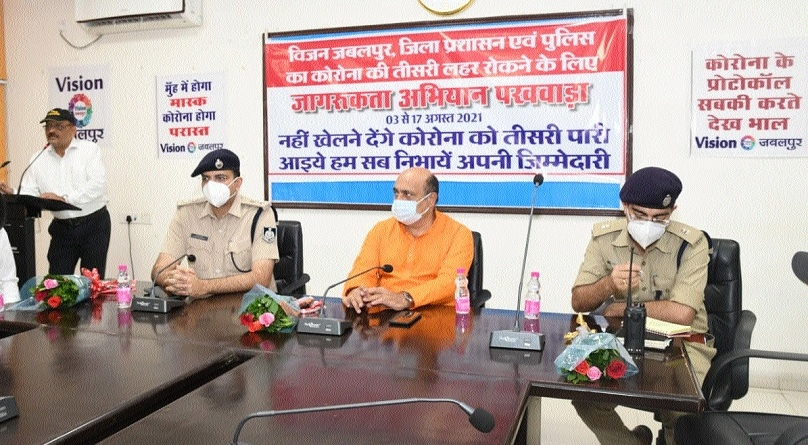 MLA, Ashok Rohani, accompanied by SP, Bahuguna and ASP, Kashwani, chairing the inaugural session.
Staff Reporter :
A fortnight programme on public awareness to avoid third wave of COVID-19 was inaugurated on the initiative of Vision Jabalpur at Police Control Room, on Tuesday. The fortnight programme is being jointly organised by Vision Jabalpur and Jabalpur Police. Chief guest on the occasion was MLA, Ashok ROhani while Superintendent of Police, Siddharth Bahuguna (IPS) and Additional SP (City), Rohit Kashwani (IPS) were specially present. Addressing the session, MLA, Ashok Rohani applauded the vision of Vision Jabalpur as its members always took initiatives in regular intervals for creating public awareness and assist police and administrative authorities.
The 15-days fortnight programme will definitely prove fruitful for educating the residents to avoid the threat of third wave of the pandemic in the district. SP, Siddharth Bahuguna said that Vision Jabalpur always cooperate the police and administration in several campaigns for traffic management, awareness campaign and encouraging the residents to ensure their contribution in development and cleanliness of the city. He extended appeal towards residents to abide with the COVID-19 protocol to avert panic of third wave.
Founder President of Vision Jabalpur, Rajendra Singh informed about the motive behind organising fortnight programme and appealed the eminent persons of city to ensure their participation in the programme for sending message of public awareness amongst residents. He informed that around 40 members of Vision Jabalpur are attending the fortnight programme.