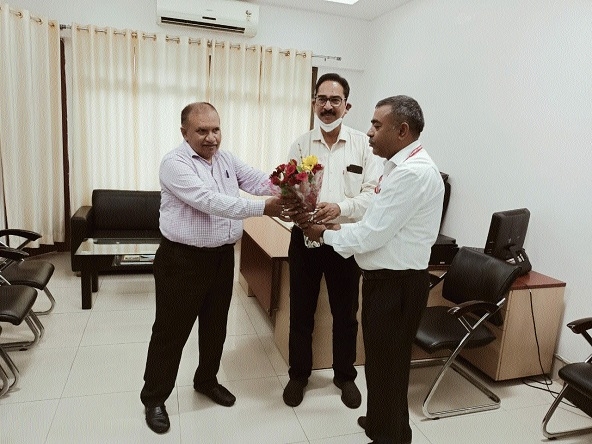 S P Singh seen welcoming the new Regional Manager, A U Khan at Paryatan Bhawan.
A U Khan assumed charge as Regional Manager of Madhya Pradesh Tourism Development Corporation (MPTDC), on Wednesday. It may be noted that Regional Manager, SP Singh has been transferred as Business Development Manager, MPTDC Headquarters, Bhopal. AU Khan was posted as Senior Manager, Champak Bungalow Pachmarhi. He was welcomed by SP Singh by presenting bouquet.
Khan interacted with the staff members and encouraged them to achieve their set targets and desired promotion of tourism in the region. Besides this, SP Singh accorded a rousing farewell by staff members in presence of KL Patel, Senior Manager (Operation), Alok Saxena, Manager, Hotel Kalchuri Residency, Dilip Shrivastava, Executive Engineer, Marketing Manager, Yogendra Richharia, Mithilesh Tiwari, Shailendra Kostha and other employees.