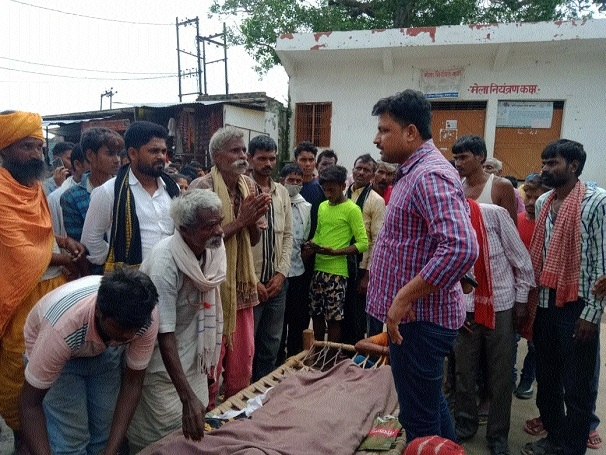 The family of the two deceased children talking to Naib Tehsildar demanding action against the contractor.
Our Correspondent :
Chitrakoot,
Two children met a watery grave in a ditch at Hanuman Dhara by-pass under jurisdiction of Nayagaon police station area. The two children, Deepak (7) and Nirasha (4), were kids of Pappu a resident of Hanuman Dhara by-pass. Both children were playing in a field behind their house. From that field, mud was taken for by-pass construction work hence a deep ditch had developed. After recent rains, this ditch was filled with water. Both the children went to play in this ditch and drowned. Their mother was busy in household work and the father had gone out. Meanwhile the children sneaked out from the house and went to the field.
A family member saw both the children drowning in the ditch and ran to save them but till then both of them had died. The next morning, family members kept the bodies in front of Tourist Bungalow on Chitrakoot-Satna road and started staging protest. Vehicles on either sides were stranded. Nayagaon SHO Santosh Tiwari and his team reached the spot and pacified the agitated mob but they did not clear the road. They were demanding action against the contratctor who left the ditch without filling it which led to this accident. The family members demanding for calling some senior administrative officers who can assure them justice. The family alleged that contractor had forcibly taken out mud from the field and took it for construction of bypass road.
When they opposed, the contractor had warned them of dire consequences . Due to this ditch, the two children died. Nayab Tehsildar Rishi Narayan Singh reached the spot and held discussion with the family members. He assured that family would be provided compensation of Rs 8 lakh (Rs 4 lakh for each child). City Panchayat, Chitrakoot would make all arrangements for the funeral of both children. Then family members left the spot and last rites of both children were perpormed at local crematorium. Pappu Verma, father of deceased children, informed that he had four children. One son died a few years back due to drowning and now two more children died due to drowning. Hence now family is in state of shock. The Naib Tehsildar has directed Halka Patwari to completed the formalities for giving financial aid to the family. He also handed over letter to grieving father in regard to giving away of financial aid.