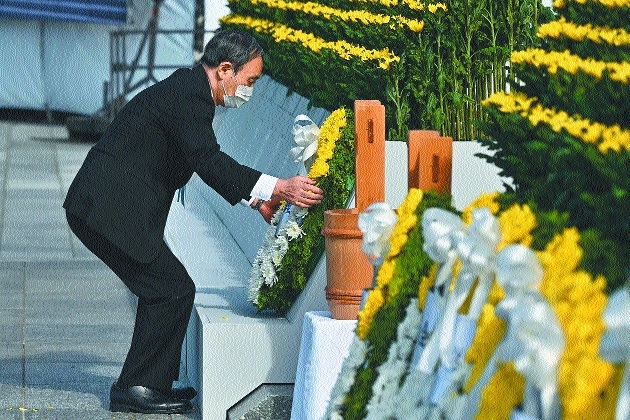 HIROSHIMA on Friday marked the 76th anniversary of the world's first atomic bombing, as the mayor of the Japanese city urged global leaders to unite to eliminate nuclear weapons, just as they are united against the coronavirus.
Mayor Kazumi Matsui urged world leaders to commit to nuclear disarmament as seriously as they tackle a pandemic that the international community recognizes as "threat to humanity." "Nuclear weapons, developed to win wars, are a threat of total annihilation that we can certainly end, if all nations work together," Matsui said.
"No sustainable society is possible with these weapons continually poised for indiscriminate slaughter."
The United States dropped the world's first atomic bomb on Hiroshima on August 6, 1945, destroying the city and killing 1,40,000 people.
It dropped a second bomb three days later on Nagasaki, killing another 70,000. Japan surrendered on August 15, ending World War II and its nearly half-century of aggression in Asia. But countries stockpiled nuclear weapons in the Cold War and a standoff continues to this day. The global Treaty on the Prohibition of Nuclear Weapons took effect in January after years of civil effort joined by the atomic bombing survivors, or hibakusha.
Former South African President Jacob Zuma hospitalised
FORMER South African President Jacob Zuma, who has been serving a 15-month prison sentence for contempt of court, was on Friday admitted to a hospital for medical observation. "A routine observation prompted that Zuma be taken for in-hospitalisation," Xinhua news agency quoted the Department of Correctional Services spokesperson Singabakho Nxumalo as saying.
The spokesperson added that the former President's healthcare needs at the Estcourt Correctional Centre require the involvement of the South African Military Health Services. Nxumalo said that the inmates have the right to medical attention, proper nutrition, reading materials and conditions of detention that are consistent with human dignity. Zuma, once known for his fight against apartheid, has been imprisoned for disobeying court orders.
Bhutan gives 300K doses of AstraZeneca jabs to Nepal
NEPAL on Friday received 300,000 doses of the AstraZeneca COVID-19 vaccines supplied by Bhutan, which comes as a relief for the senior citizens who are awaiting a second jab. "We received the consignment this morning," said R.P. Biccha, Director General at Nepal's Department of Health Services. After completing the inoculation of 90 per cent of its population, Bhutan had a surplus of 300,000 doses of the AstraZeneca vaccines.