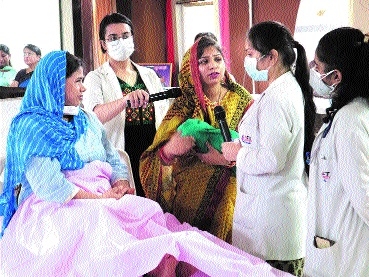 The students of L N Medical College during an awareness
programme organised to inform about the importance of
breastfeeding, at the college in Bhopal on Saturday.
Staff Reporter :
World Breastfeeding Week was celebrated from August 1 to August 7 by the Department of Pediatrics and Gynecology at LN Medical College, LNCT University. During this, poster making and slogan competitions were also organised in which students took part and made posters with messages related to breastfeeding. On the last day of the week, a seminar was also organised in the college auditorium in which Medical Director Dr Sarla Menon, Dean of LNCT Dr Nalini Mishra, HoD Department of Pediatrics Dr Rashmi Dwivedi, HoD, Gynecology Department Dr Pooja Patil and other faculty members and students took part.
The guest speakers at the seminar conveyed that breastfeeding is the most effective way to ensure the health and survival of children. Breastfeeding helps in boosting the immune system of the baby and reduces infant mortality. To spread the same message, a dramatic adaptation was presented by the doctors of the Department of Gynecology. After this, prizes were distributed to the participants who made best posters and wrote slogans. During this week, the pregnant and postpartum women were also advised to breastfeed their children properly.