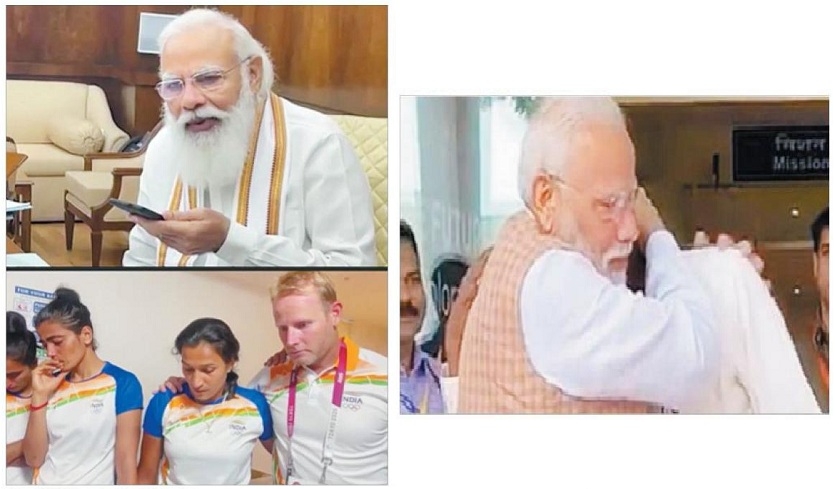 By Vijay Phanshikar :
The nation has a father-figure -- provider, care-taker, soothsayer, motivator, dreamer, protector, comrade, practical wake-up-caller, eternal emotional cohort of everybody -- in Prime Minister Mr. Narendra Modi. He is there at all times -- good and bad and indifferent. He is by your side whenever you, the person, and you the society, need him. At most moments, his face is stern, with only a suggestion of a smile on his lips, and a looking-into-nothingness stare in the eyes. But when you need him, he is there, with his voice cracking, his tone softening, and his eyes moistening. On the faraway Moon, the Chandrayaan-II's Vikram Lander crashes at 3 in the morning. But right there in the Mission Control of Indian Space Research Organisation's Satish Dhawan Space Centre, standing behind the teams of space scientists facing the massive electronic panels, he was there to soothe them in that moment of utter disappointment. And just a couple of hours later, he stood in front of all the scientists -- men and women ready to bury themselves in the sense of failure -- to tell them how proud he was of them.
"The whole nation stands by you. Don't give up. Keep it up. We will try again." And minutes later, as he prepared to leave, the Prime Minister drew ISRO Director K. Sivan close to him in a tight hug -- like a father or an elder brother does. Both men's faces were pale with emotion and eyes misty with a deep sense of togetherness. This comradeship. This empathy. This emotional connect. It is all beyond politics. For, that expression of togetherness travels into the familial zone of people's minds. For, such connects happen only in the warm confines of the home -- where all pretences melt and all trappings of showmanship become worthless. The girls were still in the dressing room of the hockey stadium at the Olympics when the phone rang.
"Mein Narendra Modi bol raha hoon (This is Narendra Modi speaking)", came over the phone. Every girl, smarting under a narrow defeat in the Bronze Medal match of women's hockey tournament, snapped alert. What followed was a complete repeat of what happens in every family between father and daughters. ... ... "Do not feel disappointed. Don't you cry. You did a fantastic job. Everybody is proud of you. You, my daughters, are the actual inspiration for all the daughters of India. And how is Navneet? Was her eye hurt? And Salima also played so well. All of you make me proud, so proud. And your dear coach (Marijne) has proved his worth ...". While saying this, Mr. Narendra Modi's voice was cotton-soft, assuring, communicating beyond words his personal and the nation's sense of love and pride for the girls. The girls simply cried -- and the nation, too, joined them. This happened with every sportsperson in Tokyo. Each one got such calls -- of assurance, of congratulations, of support, of encouragement. Everybody -- the sportspersons, coaches, managers, support staff -- felt that it was their father who was talking to them, standing by them in all hours -- of glamour and grime.
A few years ago, this father-figure sat bolt upright through the night right near the phone. Every now and then, he called his trusted people in the control room to know what was happening to those few bravehearts who entered Pakistan to script a brilliant chapter of national revenge at Uri. A little later, when the Indian air warriors zoomed out to Balakot to teach the enemy a lesson of lifetime, this man again sat upright and uptight, wanting to know what was happening. These and many such instances did not have a Prime Minister in action. There was a father-figure at his emotional best, at his emotional high -- beyond the emotional low of the moment. This comes only from a person who has had an emotionally secure childhood. True, the little boy Narendra lived a life of want. Despite that, his father and his mother and others in his family lent him an emotional stability. Such a good fortune is not written on everybody's forehead, so to say.
All that emotional treasure that little boy stored in his being is now coming up when the nation's sons and daughters need it. Six years ago, when the celebrated lyricist Prasun Joshi questioned him closely about his mental make up, Mr. Narendra Modi, dressed in a formal, black high-collar jacket to ward off British cold, spoke in clear tone about what made him what he was. And then stood a young fellow to ask him if ever the Prime Minister got tired in his relentless schedule. Mr. Modi smiled charismatically and shared an anecdote: A little girl was climbing up a hill with her younger brother on her back. A Sadhu asked her if the burden was too heavy for her. "He is my brother", the girl exclaimed. "Yes. He may be. But is that a burden?", the Sadhu persisted. In half indignation and half wonderment, the girl responded, "Maharaj Ji, apne bhai ka boz nahin hota (Your brother is never a burden on you). The whole auditorium burst into an applause whose ripples can still be sensed. That explains everything -- much to our delight, much to our relief from ugly politics, so to say.