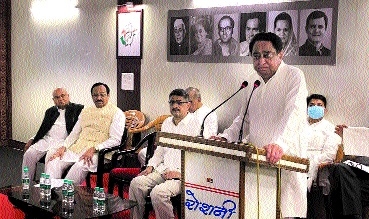 Staff Reporter :
Former Chief Minister Kamal Nath said that BJP led state government want to run away from burning issues and this is the reason that it has convened short session of Madhya Pradesh Assembly. He was addressing the Congress MLA squad meeting convened on Sunday evening. He stated that Congress will rake up public issues with full strength in assembly session starting from Monday. He said that he recently toured the flood affected parts of Gwalior and Chambal and found that situation is fearsome. Belongings of people have been washed away in flood, they are not having any thing to eat. The relief of government has not reached till affected people, in the name of relief they have only received announcements of Shivraj Government.
He questioned government that when weather department issues warning of heavy rains then why state government could not make arrangement timely. He said that due to heavy flood, properties and infrastructure has been damaged. He said that in the all party meeting, he had apprised CM Shivraj Singh Chouhan about the problems of people living in flood hit regions. He was of the view that food arrangement should be made for flood hit people as nothing is going to happen by providing raw food to them as they are unable to cook because all their household belongings got washed away in flood. He asked Congress MLAs to get involved in hard work as only two years are remaining for next assembly election in the state.
He said that thousands of people lost their lives due to mismanagement of state government during corona period. He also underlined the importance of social media by saying that people are directly connected with social media. He added that the previous Government headed by him had increased OBC reservation from 14 percent to 27 percent but the present BJP government is not interested in implementing it and hence OBC people have been unable in getting benefit of increased reservation.