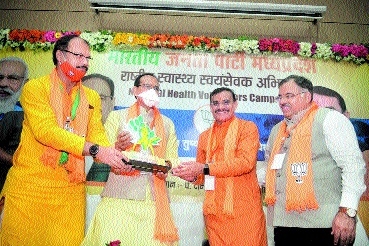 CM Shivraj Singh Chouhan, BJP's National General Secretary Tarun Chug and BJP State President V D Sharma during
inauguration of training programme of district level health
volunteers at party office in State Capital on Sunday.
Staff Reporter :
BJP's District Level Swasthya Swamya Sevaks (health volunteers) training programme commenced at party's office in state capital on Sunday. Chief Minister Shivraj Singh Chouhan, BJP State President VD Sharma, Campaign's national in charge and party's national General Secretary Tarun Chug addressed the programme and highlighted its importance in dealing with third possible wave of corona. Tarun Chug said that during first and second wave of corona, party workers have served the needy people and thus created an exemplary example in world. Taking pot shot on opposition, he said that during corona, Congress went into lockdown mode while many opposition parties went into hiding. But BJP workers risked their lives to serve the humanity as serving people is in their DNA. Talking about training programme of Swasthya Swamya Sevaks, he told that to deal with third possible wave of corona, BJP will form India's biggest health force in the form of Swasthya Swamya Sevaks.
Two trained volunteers will be deployed at each booth. He said that in the leadership of Prime Minister Narendra Modi, country has to be saved from corona. He said that health volunteers will be trained in every mandal till August 31. Criticising Rahul Gandhi for alleging shortage of vaccine in country, he told that Modi government knew how to work. So far, more than 50. 3 crore people have been vaccinated in country. The Chief Minister reckoned various works done by the Modi Government to provide help to people during corona period. Taking a dig on Congress allegations of economy suffering during coronavirus period he told that "its not economy but lives of people of country are more important." Chief Minister Shivraj Singh Chouhan said that it's the vision of BJP National President J P Nadda that the BJP workers will not only work for votes during the elections but will also protect the health of people and will stop the third expected wave of coronavirus.