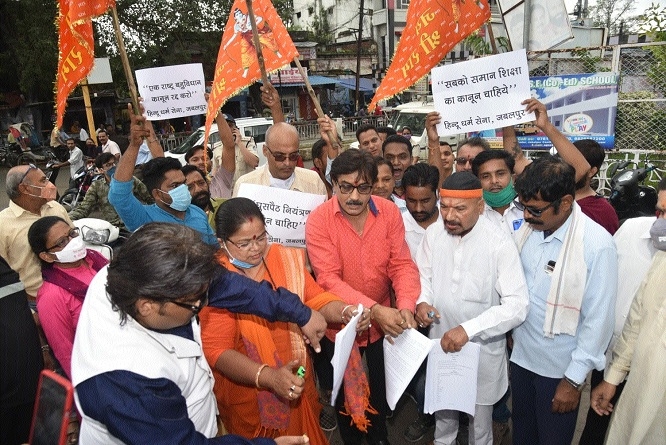 Hindu Dharm Sena activists setting afire documents of British laws.
Staff Reporter :
Activists of the Hindu Dharm Sena Jabalpur staged demonstration and raised demand for 'One Nation-One Law' and set ablaze the copies of law framed by British rulers at Bharat Mata Chowk Sadar, on Sunday. National thinker of Hindu Dharm Sena and senior advocate Ashwini Upadhyay and Pushpendra Kulshrestha started a campaign for eliminating laws of 1860 IPC and 1864 Police Act imposed by the British emperors to rule the country and suppress the voice of freedom fighters and these laws are still implemented in independent India. Hindu Dharm Sena President, Yogesh Agrawal informed that the laws of British rulers were framed to divide the country and there is an urgent need to change the IPC laws for implementing One Nation-One Law in the country.
On the nation-wide call of One Nation-One Law, a massive demonstration was staged and copies of British law were set ablaze. Through the demonstration, activists raised demand for bringing similarity in rights of education, civil code of conduct, stopping religious converstion, infiltration and population control for every citizen. During the demonstration, activists include Lata Singh Thakur, Bhagchand Patel, Neeraj Rajput, Bramhanand Pandey, Ashish Prajapati and others were present.