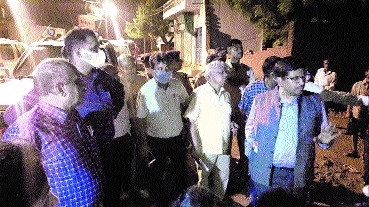 Minister Bhupendra Singh taking stock of situation at flood-hit Sheopur district on Sunday.
Staff Reporter :
Urban Development and Housing Minister Bhupendra Singh has informed that drinking water supply has been restored in all the wards of Sheopur city. After the flood disaster, 103 out of 106 tubewells have been made operational. As per the requirement, 15 tankers have also been pressed into service for water supply. Drinking water supply has also started in Baroda, a flood-affected city of Sheopur district. The survey of damaged houses in the flood affected urban bodies is going on. In Sheopur city, the cleaning work is going on in 3 shifts day and night. Commissioner Urban Administration and Housing Nikunj Srivastava himself is monitoring it on the spot. 2500 blankets from Bhopal and 500 saris from Indore along with other relief materials are being provided for the flood affected.
On August 8, 13 JCBs, 6 dumpers, 7 sewer suction machines, 3 jetting machines, 30 tractor trolleys and 15 tractor scrapers have been pressed into service in Sheopur. About 200 sanitation workers are working continuously. Flood affected people have been accommodated in 7 relief camps. Adequate arrangement for mattress, food, drinking water etc. has been made here.