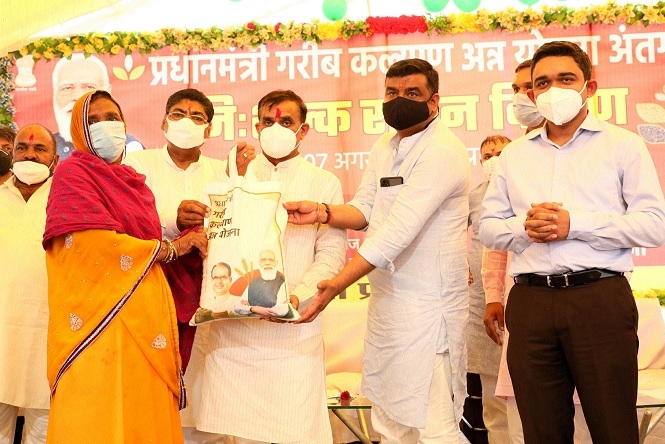 MP V D Sharma distributing free ration to beneficiaries at village Tevri in Katni.
Our Correspondent :
Katni,
Under the Pradhan Mantri Garib Kalyan Anna Yojna, the eligible beneficiaries were given away bags of free ration at 472 Government Fair Price shops (FPSs) in district. The district level main function was held at village Tevri at Govt H.S School. The chief guest at the main function was State BJP President and Member of Parliament VD Sharma. Local MLA Pranay Prabhat Pandey, District BJP President Ramratan Payal, Collector Priyank Mishra, S.P Mayank Awasthi and other dignitaries were present on the occasion. Addressing gathering MP VD Sharma said that BJP government aims that no person should sleep without food, no one should remain hungry. BJP did not raise slogan of alleviating poverty rather it work on improving standard of living of poors. Central and state government are working in direction of giving good life to people. Under this scheme, each needy is being provided ration so that they cannot fend for their families. MP Sharma also informed gathering about Pradhanmantri Awas Yojna, Pradhamnatri Ujjawal yojna, Ayushman Bharat Yojna and others. MP Sharma hailed farming of 'sweet corn' in Tevri as it has demand in other states also. District Collector Priyank Mishra threw light on the outline of the scheme. He informed that 472 Fair Price Shops (FPSd) are running in district and district has 2,14,839 families who are beneficiaries. On the occasion, live telecast of the address of Prime Minister Narendra Modi and Chief minister Shivraj Singh Chauhan was seen and heard by LED screen.
MP Sharma waved green flag to the vehicle deployed for distributing foodgrain to handicap, destitute beneficiaries at the their home. MP Sharma also gave tricycle to the handicapped. MLA Sanjay Satyendra Pathak attended the similar function held at village Devrikalan, MLA Sandeep Jaiswal attended the function held at village Chaka. On the occasion, free ration distribution was done to eligible beneficiaries at 30 model foodgrain distribution centers. Senior leaders give away rations kits to poor at Sagar n Our Correspondent Sagar, Aug 8 Free distribution of ration to beneficiaries under Pradhan Mantri Garib Anna Kalyan Yojana was held at 914 places in district and some 61,000 beneficiaries were given away bag of 10 kg of ration. In all places, arrangements were made to heard and see the live telecast of Prime Minister Narendra Modi and Chief Minister Shivraj Singh Chauhan on the inauguration of this scheme. The gathering was also shown short film on the scheme. In the main function of Sagar district was held at Ravindra Bhavan, Sagar.
The chief guest was Member of Parliament Rajbahadur Singh, special guest were MLA Shailendra Jain, Divisional Commissioner Mukesh Shukla. Municipal Commissioner R P Ahirwar, City Magsitrate C L Verma, District Supply Officer Rajendra Waikar and others officers graced the occasion. Addressing the gathering, MP Singh said that it is a matter of great fortune for people that country is being led by Prime Minister Narendra Modi and State is being led by Chief Minister Shivraj Singh Chouhan, who aims for benefit of the poor. In this time of crisis due to corona, under Pradhan Mantri Garib KalyanYojana and Mukhya Manatri Annpurna Yojana, the poor have been getting ration free of cost. This scheme has given great strength to poors as now they do not have worry about their hunger. MLA Shailendra Jain said that due to corona, business activities have come to standstill, each one is facing some or the other crisis. In such condition, fending for the food became the prime objective of people. Hence state and Central Government came to help the needy by providing them free ration. Municipal Commissioner Mukesh Shukla said that in each ration shop of district, beneficiaries are being given away free ration of 10 kg. District Supply Officer Waikar informed that on 914 Fair Price Shops of district, this function was held under direction of 1400 Nodal Officers and in presence of 2700 guests. Some 61,000 beneficiaries were given away ration bags and more than 4 lakh beneficiaries would be receiving the benefit of this scheme.
Dr Arvind Jain and Prajapati conducted proceedings of the function . Poor benefitted at Bargavaon n Our Correspondent Bargavaon, Aug 8 Free ration distribution under 'Anna Utsav' was done at many places and BJP party workers under aegis of BJP Ruram Mandal, Anuppur actively participated in the function. The party workers and leaders volunteered in organising the Ann Utsav and brought many beneficiaries in this function. Ann Utsav was held at village panchayat Bargvaon, Kelharo, Chahchai, Devhara, Patna, Dhirol, Sakra, Mediaraas, Chakethi,Jamudi, Piparia and other places. In the function held at Bargavaon, Jyotish Sharma, Prabhakar Singh, Subhash Mishra, Mandal Vice President, Nodal Officer Kailash Shrivastava, Saraswati Madam, PDS godown Incharge, salesman Nilesh Gupta, Sarpanch Runai Baiga, Panchayat secretary Chakke Lal Rathore, Janpad member Pawan Kumar Chini, Shiv Shankar Pandey, Pratap Dhamecha, Kishore Kahar, Sandeep Mishra, and others were present. In function held at Kelhari Chachai, chief guest was Rashmi Khare.
The special guests wren district panchayat member Snehlata Sony, Sarpanch Punam Pradhan, Secretary Pushpendra pandey, salesman, Nodal Officer Deepak Verma and others . BJP Mandal President Satyanarayan Soni , Ramnarayan Urmaliya, Chandrika Prasad Dwivedi, Neeraj Gupta, Badri Pratap Singhm Virendra Singh Chauhan, Vijay Shukla, Umesh Patel, Mamta Soni, Shakantula Kol and others attended the Ann Utsav held in many village panchayats. 'Anna Utsav' also held at Sonawari Sewa Samiti n Our Correspondent Maihar, Aug 8 'Anna Utsav' at Sonawari Sewa Samiti, Maihar Janpad was held in which 100 bags were distributed to beneficiaries. On the occasion, Panchayat Secretary Ramesh Vishwakarma, Employment Assistant Santosh Choudhary, Manoj Kori, Santosh Kol, Munendra Patel, Jagdish Singh, Brajkishore Dwivedi, Vrindwan Singhm Ramlal Rawat, Prahlad Paroha and others were present.