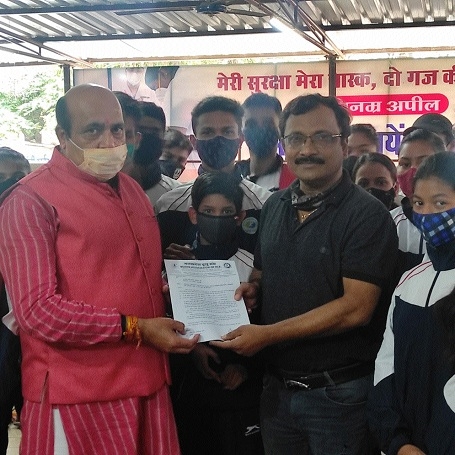 Players handing over a memorandum to MLA Ashok Rohani.
Sports Reporter :
Around 60 Wushu players from the State have won total 101 medals in national championships but have still not eceived ensured cash prizes
The nation is celebrating the remarkable performance of oor nation's players winning medals in the Tokyo Olympic Games but the players who are earning name and fame for the State by winning medals in national competitions are deprived of due benefits as declared by the State Government. Shockingly. a large number of players from different disciplines have been given half or less than half of the prize money declared by the Government. Annoyed with the apathetic working of the Madhya Pradesh Sports and Youth Welfare Department, a group of players handed over a memorandum to MLA, Cantonment Ashok Rohani requesting him to table their demands before the State Government and providing them with the declared cash prize of their achievements.
Through the memorandum, a delegation of Wushu players informed that around 60 players have won total 101 medals in 29th Senior National, Chandigarh, 19th Junior National, Haryana and 20th Sub Junior National, Ranchi. Madhya Pradesh Government had declared cash prize of Rs 1 lakh for Gold medal, Rs 50,000 for Silver medal and Rs 25,000 for Bronze medal winners in national competitions and its 10 per cent was to be given to their trainers. Following the delay in payment of prize money, some of the players had registered complaints on the CM's Helpline. Annoyed with the complaints, the Deputy Director of Sports and Youth Welfare Department has allegedly illegally curtailed the prize money and provided only 50 per cent or less amount to the medal winners.