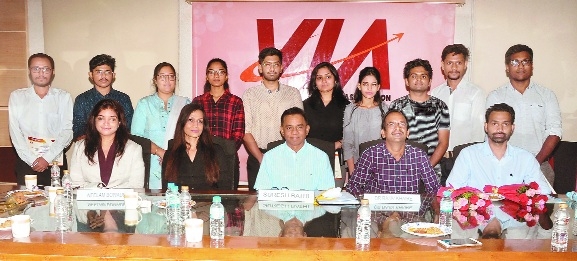 Business Bureau :
President of Vidarbha Industries Association (VIA) Suresh Rathi recently said that huge opprtunities are available for youths in variopus field. However, he said that the only well-trained youths can avail these opportunities. Rathi was speaking at the awards distribution ceremony conducted by VIA-HRD Forum, Nagpur and RCOEM-QCFI Centre of Human Excellence-DMT, RCOEM, Nagpur. VIA HRD Forum, and Department of Management Technology, Shri Ramdeobaba College of Engineering and Management (RCOEM) jointly awarded the students and distributed participation who participated in the 9-day training programme on "Competency Building for Management Students". The novel initiative from VIA-HRD Forum was to bring experts from industry and academia to train HR specialization students on industry perspectives in human resource practices.
Experts from Mahindra and Mahindra Ltd, M P Birla Cement Pvt. ltd, Ceat Tyres Ltd, Sunflag Iron and Steel Co. Ltd., Cornerstone International Group, Crystal Crops Production Ltd. and expert academicians from RCOEM were the resource persons. The training programme mainly focused practical insights on HR practices related Salary and wage administration, legal compliance, disciplinary action, training and development, appointments, transfers, manning, QMS and audits followed by leading organisations. The programme aimed at developing students with on job knowledge about performance appraisal, time office management and interview techniques. Students attended the programme with zeal and enthusiasm. Around 75 students from various colleges of Vidarbha region participated in it.
Hinal Chauhan, Sumer Singh, Minal Rajankar and Nayan Awchat were awarded with 'Best Student' on the basis of performance and participation. In addition, the others participants received certificates. Earlier Rathi extended profound gratitude towards Dr Rajesh Pande, Principal of Shri Ramdeobaba College of Engineering and Management, Suresh Pandilwar, Co- Chairman, VIA HRD Forum, Dr Chandan Vichoray Head, DMT, RCOEM, Dr Rajiv Khaire, Dean III, RCOEM for making the programme a huge success. Neelam Bowade, Dr Pritam Bhadade and Dr Kanak Wadhwani were present for the occasion. Students appreciated the way online training was arranged that gave practical insights on ESIC forms, filling details, PF filling etc. The training programme was sponsored by Ankur Seeds Private Limited, a renowned and top agri-seeds supplier in India.