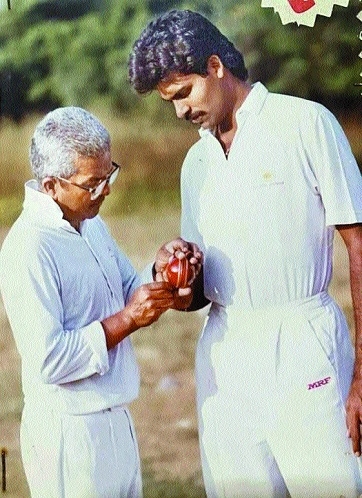 Vasu Paranjape (L) explaining the intricacies of swing bowling to Prashant Vaidya who posted this very old Air India nets picture on his Facebook page.
By Anupam Soni :
WHILE condoling the demise of former cricketer and coach Vasu Paranjape, one of his proteges, former India player Prashant Vaidya said that with him an era of coaching has ended. Paranjape was among the first set of coaches when the National Cricket Academy was founded in 2000. Paranjpe, 82, breathed his last at his house in Mumbai on Monday. He is survived by wife and son Jatin, who has been an Indian player and a national selector. "Losing him is definitely a sad day for me. He was instrumental in me going to Mumbai and playing cricket there before I started my First-Class career. I learnt not only the right way to play cricket but also playing it with the right spirit.
"He was here in Nagpur for some Under-16 tournament as Jatin was participating in it. My father took me to meet him and without seeing me bowl, he said cricket is in your blood and asked me to come over to Mumbai. In summer, I went to Mumbai and stayed with him ... and that is the how our association, the journey, started," Vaidya went down memory lane while interacting with 'The Hitavada'. Vaidya and former Vidarbha skipper Pritam Gandhe joined Air India together. "Pritam and I joined the Air India together and Vasu Sir was our coach there also. I played for his club Dadar Union, my first club cricket, in Mumbai. He was there at the MRF Pace Foundation too and that's how the bond began. His passing away is end of an era. Those who have been in his company will tell what they achieved in life. Those were fortunate players who got good time to spend with him. "Though he always asked us to play the game with passion, he belonged to the old school that treated cricket as gentleman's game, and wanted us to maintain the sanctity and decorum of the sport. He taught one what life is about through the game of glorious uncertainties. "We looked forward to every session with Vasu Sir. Be it a practise session or a match or spending evening house with him. We would listen to him for hours...his old cricket stories and great knowledge about the game.
His knowledge was for every one. His coaching included creating passion and devotion. He was the one who would be there with you all along the long joinery, a tough one for cricketers. An era of coaching has indeed ended," Vaidya felt. Among his other liking, Vaidya recalled, "He was very fond of wildlife. He have been to Tadoba and Pench on few occasions." Despite being in Mumbai a couple of days ago, Vaidya could not meet Paranjpe. "I was in touch with him and talked to him about two months back. I was in Mumbai two days ago and called Jatin to inform him that I was coming to meet Vasu Sir. But Jatin said that he was not keeping well and was sleeping. As I was to visit Mumbai again next week, I told him that I will meet him next time. The regret of not being able to meet him for one last time will always be there," Vaidya signed off.