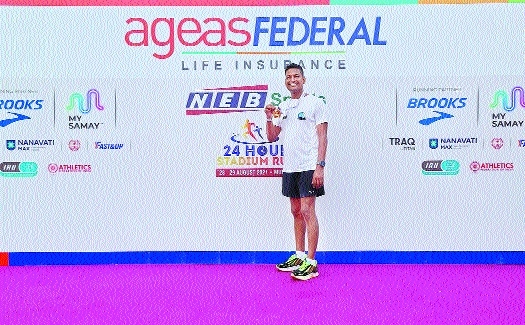 Principal Correspondent :
NAGPUR'S Ashish Agrawal recently completed a 24-hour stadium run at Mumbai. The event was organised by NEB Sports. This was the third live event of the year. By running 24 hours, Agrawal became the first person to do so from Central India, informs a press release. Agrawal got inspired for a 24-hour run at the stadium after he successfully completed the 12-hour run at same venue in March earlier this year. After discussion with Mitesh Rambhia, Kumar Ajwani and Adv Ekta Awachar, he planned the 24-hour run.
There were over 1800 participants in individual and team relays. Runners across genders and between 18 and 67 years began on Saturday (Aug 28) at 6 pm and completed the run on Sunday (Aug 28) at 6 pm at Wings Sports Centre, Bandra West in Mumbai. Agrawal, co-founder of Nagpur Runners and Riders, thanked his coach Dr Sunil Kapgate of Jai Athletics Club, Dr Kevin Agrawal, Akhada Performance Studio, who trained him apart from his running partners Kalyani Satija, Soodesh Jhawar, Sandeep Maheshwari and members of Team NRR for making his success.