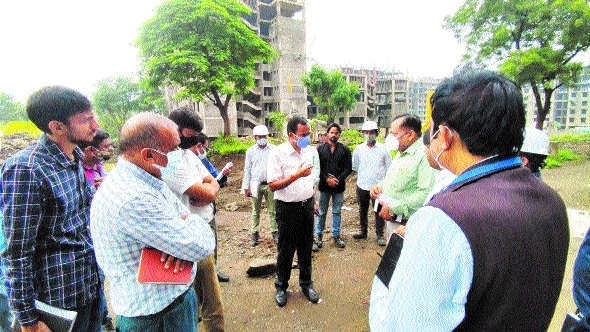 BMC Commissioner KVS Chaudhary inspecting ongoing
construction works along with other BMC officials at the
Shyam Nagar locality on Tuesday.
Staff Reporter :
Bhopal Municipal Corporation (BMC) Commissioner KVS Chaudhary on Tuesday instructed to ramp up construction works of 2 MIG Blocks, 4 LIG Blocks and 2 EWS blocks at 12 no. bus stop and Shyam Nagar by November 2021. Notably, the ongoing blocks are being constructed under Housing-for-all Scheme. He also cautioned that if construction works are not finished within stipulated time, the construction company concerned will be permanently terminated. Chaudhary also instructed to review progress of construction works every week, set a particular target and increase number of labourers. Additional Commissioner Chandrapratap Gohal, Chief engineer in-charge A R Pawar and other BMC officials were also present at the site. Commissioner KVS Chaudhry took detailed stock of ongoing construction works at 12 no. bus stop and Shyam Nagar locality on Tuesday.
He also inspected quality of fillers used in construction of residential cells. Commissioner Chaudhary was informed that 9 blocks under both slum and non-slum categories are to be constructed in the Shyam Nagar locality of the city, of which the construction work of 5 blocks is in progress. After receiving the information, Chaudhary instructed to speed up the pace of the construction works to complete them within the prescribed time limit.