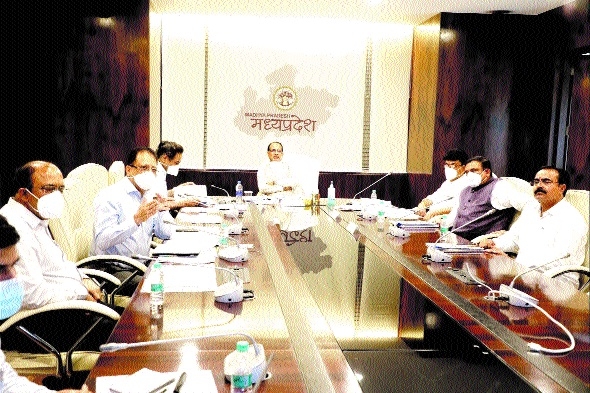 CM Shivraj Singh Chouhan chairing 19th meeting of the Board of Directors of Madhya Pradesh Jal Nigam at Mantralaya on Tuesday.
Staff Reporter :
Chief Minister Shivraj Singh Chouhan has said that the Jal Jeevan Mission is a very ambitious scheme of the government, through which drinking water will be provided to every household in the state through taps. There should not be any compromise in the quality of the work and the pipes and other materials used in the scheme. To ensure contractors do not install inferior quality pipes and materials, do Continuous monitoring and cross checking. He said that in the Atmanirbhar Madhya Pradesh campaign, priority should be given to the industries of the state for materials that are suitable for government works. It should also be ensured that the material is of high quality. He was addressing the 19th meeting of the Board of Directors of Madhya Pradesh Jal Nigam at Mantralaya on Tuesday. He said that Jal Jeevan Mission has been made for 30 years.
Therefore, the work should be such that for the next 30 years, the public can get the benefit of the scheme without any hindrance. He directed that in the works of the scheme, full care should be taken that pipelines should not be laid at places where there is no water source. Ensure availability of water source before laying the pipeline. The meeting approved the appointment of Sumit Bose as an Independent Director on the board, extension of services of contract managers, approval for transfer of equity shares, approval for establishment of new implementation units (PIUs) and strengthening of infrastructure, decisions were taken regarding the empanelment process of HDPE pipes etc. Urban Development and Housing Minister Bhupendra Singh, Panchayat and Rural Development Minister Mahendra Singh Sisodia, Minister of State for Public Health Engineering Brijendra Singh Yadav, Chief Secretary Iqbal Singh Bains, Additional Chief Secretary Public Health Engineering Malay Srivastava, Additional Chief Secretary Water Resource SN Mishra and others were present.