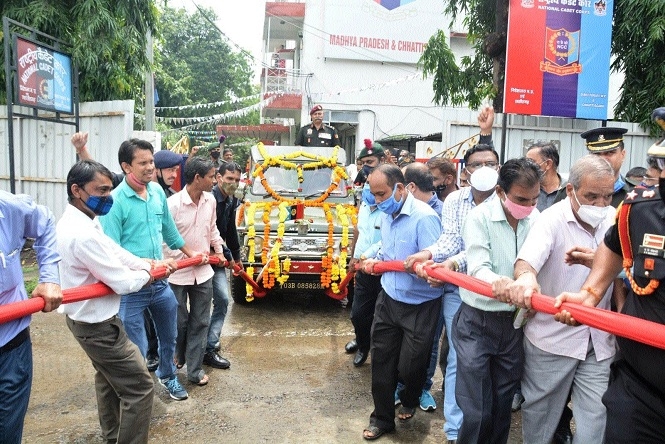 Staffers giving a grand farewell to Major General Sanjay Sharma.
Staff Reporter :
RAIPUR,
Major General Sanjay Sharma was given a grand farewell on his retirement from 36-year-long glorious service on August 31, 2021. Major General Sharma has left behind a legacy for the younger generation to emulate. Major General Sanjay Sharma is the first Army Officer from the state of Chhattisgarh to don the rank of General Officer. He got commissioned into the corps of Electrical & Mechanical Engineers from Indian Military Academy, Dehradun in the year 1985. The General has always had a brilliant academic record. He graduated in BE (Mechanical Engineering) from GEC Bilaspur, Technical Staff Officers course from IAT, Girinagar and Higher Defence Management Course from CDM, Secunderabad.
Not only this, the General had also completed his M Phil from Punjab University. During his 36 years of service, he has had the privilege to serve in all types of terrains that our country can provide right from the very important Chola Pass in the mountains of the Himalayas while cross attachment with 4 Grenadiers to Andaman & Nicobar Islands, an archipelago of immense importance while tenanting the appointment of CSO (L, A&P). The General Officer, during his illustrious career has held various important and prestigious appointments such as commanding an EME Bn at Ambala Cantonment, Commandant SDD, Secundrabad, MGEME HQ SC (EME), Pune and as of date the Additional Director General, NCC Dte (Madhya Pradesh & Chhattisgarh) Bhopal. The General Officer, in his career was also responsible for the equipment management of UAVs, missiles, radars, tanks apart from the transport, repair and maintenance of vehicles.