Training of master trainers for All India Tiger Estimation–2022 commences at Kanha Reserve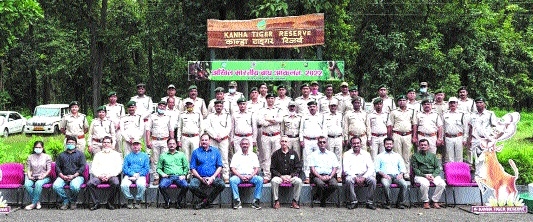 Officers with master trainers during inauguration of AITE-2022 training programme.
Staff Reporter :
A Two-day training of master trainers for All India Tiger Estimation – 2022 was inaugurated at Kanha Tiger Reserve, on Monday. Training programme was inaugurated at the hands of Alok Kumar (IFS), Principal Chief Conservator of Forest (Wildlife) while Amitabh Agnihotri (IFS), Director, State Forest Research Institute (SFRI) Jabalpur and RD Mahala, Chief Conservator of Forest, Jabalpur. At the outset, Sunil Kumar Singh (IFS), Field Director of Kanha Tiger Reserve welcomed the guests and participants and informed about the significance of tiger estimation. He detailed about the guidelines issued by National Tiger Conservation Authority (NTCA), New Delhi and Madhya Pradesh Forest Department for AITE-2022. Total 34 master trainers from eight units include Kanha Tiger Reserve, Regional Forest Divisions North Balaghat, South Balaghat, Dindori, East Mandla, West Mandla, Lamta Project, Mohgaon Project, Kundam Project and Forest Development Corporation are attending the training.
These master trainers will impart training for AITE-2022 to other forest personnel in their respective areas. Master trainers are being informed about theoretical and practical parts of tiger estimation work by team of trainers include Jayant Bora, Shravana Goswamy, Indian Wildlife Institute Dehradun, Dr Aniruddha Majumdar of SFRI Jabalpur, Rahul Talgavkar, World Wildlife Fund, India, Balaghat. It was informed that this time separate paperless estimation of carnivores and herbivores will be digitally carried out through Mobile App. M-Stripes (Ecological) software will be used for actual census to be carried out by forest guards. During the training programme, Ravindra Mani Tripadhi (IFS), Deputy Director (Core), Naresh Singh Yadav (IFS), Deputy Director (Buffer), SK Sinha, Sanjeev Sharma, S. Sendram, Assistant Directors, Circle Officers and other officers were present prominently.