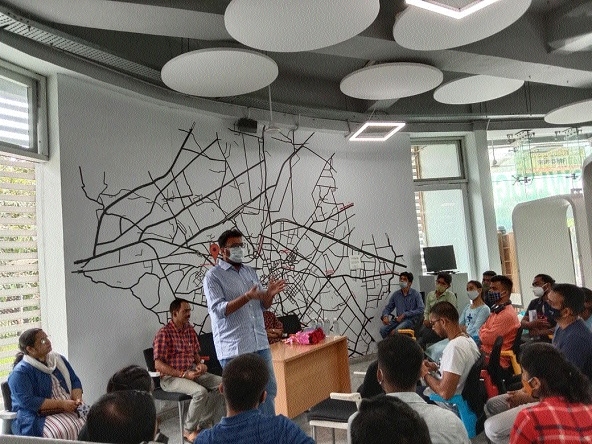 Members of Nalanda Library being provided with success tips by IPS Officer Ganesh U R on Thursday.
Staff Reporter :
Raipur,
A career guidance seminar was organised at Nalanda Parishar of Raipur on Thursday as part of 'Safalta Ki Pathshala' programme initiated last month by District Collector and Nalanda Parishar Management Society president Saurabh Kumar. The programme is aimed at preparing educated candidates for competitive examinations through direct interaction with selected government officials. It is worthwhile to mention, only those candidates are eligible to attend the seminar who are registered with the library present here. The 2019-batch IFS Ganesh U R and CGPSC topper of 2016 Deputy Collector Archana Pandey shared the success mantras with the members of the Nalanda Library.
The IFS Officer provided success tips for Civil Services and Indian Forest Service Examinations conducted by Union Public Service Commission (UPSC). He said that the UPSC and State Civil Services examination can be cracked with in-depth study of NCERT and NIOS books from class 6th to 12th along with other authentic books and positive thinking. You can get success in examinations. Ganesh U R said that students should get maximum number of mock tests and practice solving previous years' question papers within the time limit. Also take advantage of audio-videos of government and other reputed institutions to understand the concepts of various subjects. Ganesh provided detailed guidance on how to solve objective type questions of Preliminary Exam in time limit, answer writing technique to score good marks in Main Exam and Interview.
He also addressed the questions and queries of the members in detail. Deputy Collector Archana Pandey provided information to the members regarding success in the state service examination conducted by the Chhattisgarh Public Service Commission. Employment Officer and Nodal Officer of Nalanda Campus Kedar Patel said that this type of event would be organised regularly under the programme. Librarian Dr Manjula Jain said that there is a lot of enthusiasm among the students due to this initiative. More than 60 participating members were present in this workshop. Karan Kumar Pandey, a member of Nalanda campus and preparing for UPSC Civil Services Examination, described this workshop as fruitful for them. Similarly, Sheetal Shilke, who is preparing for CGPSC, said that meeting the officials directly has infused new enthusiasm and confidence in them, which will definitely prove helpful in their preparation.