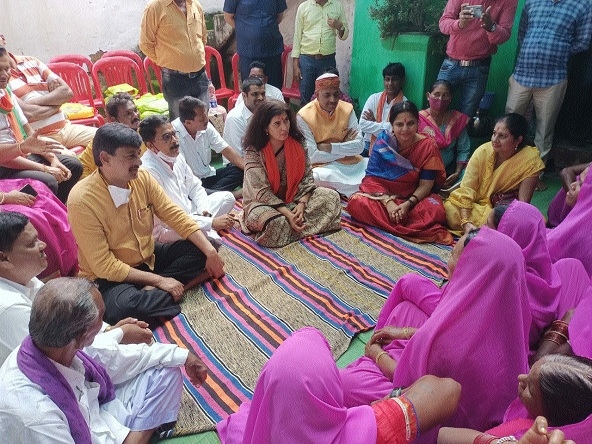 Staff Reporter :
Raipur,
BJP State Secretary O P Choudhary flayed State Government for neglecting farmers of Pandaria
Rajya Sabha MP Saroj Pandey on Thursday reached Dumarpali village of Mahasamund district to meet the women who refrain from celebrating 'Teej' festival in protest against state government's apathy towards liquor ban in State. The MP said that the women Dumarpali have displayed courage and reminded the Bhupesh Baghel Government of its promise. Surpringly, the Chief Minister invited Congress national spokespersons from Delhi to celebrate Teej at the CM House in Raipur at a time when the women of the state are deprived of celebrating the all important festival, said the Rajya Sabha MP. The MP raised questions on the safety of women in Chhattisgarh, said that when daughters are afraid of going to their maternal home and there is an atmosphere of fear before bringing daughters, then the condition of law and order in Chhattisgarh can easily be understood.
Mahasamund District President Roop Kumari Chaudhary, former State President of Kisan Morcha, Poon Chandrakar and State Convener of Medical Cell Dr Vimal Chopra was present on the occasion. Meanwhile, BJP State Secretary O P Choudhary has targeted Chief Minister Bhupesh Baghel for neglecting the farmers of Pandaria area. The farmers here are staging protest against the State Government after they were deprived of crop insurance, paddy and sugarcane bonus and power cut, said Choudhary. Chaodhary said that Chief Minister Bhupesh Baghel claims to be himself farmer-friendly, but he does not have time to take care of the farmers.
Chief Minister Baghel and his Cabinet have time for chair race, display the strength in the fight for chair but no time for farmers of Chhattisgarh, he said. The State Government should immediately stop the undeclared power cuts and black marketing of fertilisers. The Government does not have answers regarding crop insurance, bonus for paddy and sugarcane. Ironically, farmers who committed suicide were told to be mentally ill, he alleged.