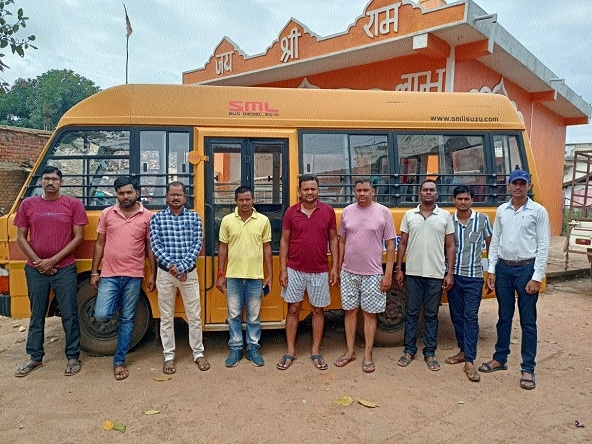 Parents Committee members with the bus arranged by them.
Staff Reporter :
Raipur,
In a unique initiative, Parents Committee has arranged a bus at their own expenses for sending their children to Swami Atmanand English Medium School. This development has taken place in the remote forest village Gotatola of Mohala development block in Rajnandgaon district. Seeing the difficulties faced by the children in going to school here, all the parents arranged the bus at their own expense. The bus service is going to start from Friday.
The height of awareness among parents in remote forest areas can be gauged from the fact that parents are coming forward to ensure better education for their children. The distance of English medium school located at Mohala from village Gotatola is about 15 kms. In view of the difficulty in commuting the children from the village to the school, the parent committee here has arranged a bus. The bus will carry about 30 children of Gotatola village to Swami Atmanand Excellent English Medium School. Pyarelal Jaiswal, a retired jawan, who is a member of parent committee, informed that about 30 children from Gotatola have taken admission in Swami Atmanand School. Children cannot go to school on their own and parents cannot afford spending hours in taking their children to school every day. To overcome this issue, all the parents decided to arrange a bus, he said.