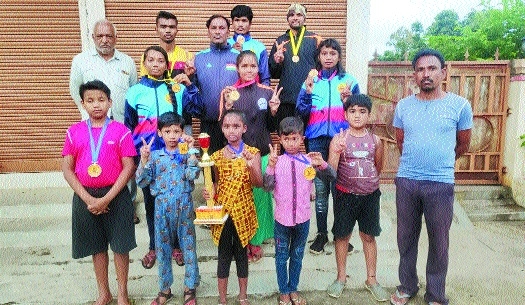 Sports Reporter :
A 15-MEMBER team from Deolapar participated in the district-level Wushu Championship that was conducted recently under the aegis of Nagpur Wushu Association (NDWA). The team, including 10 tribals who came from nearby villages including Deolapar, dominated the wushu championship as 13 players won medals and registered their names for the selection camp from where Nagpur district team for the State Championship, to be held later this year, will be selected. It was a surprise for all at the venue as all 10 tribals players, three girls and seven boys, secured medals and made their coach proud. When 'The Hitavada' contacted Raju Kawre, wushu coach Deolapar, he was proud of the achievement of the team. "My team is participating in the game since the last four years but this has happened for the first time that the team of 15 members won medals in every category and the tally went to 13 which is highest till date," he said. When asked about tribals entering the game, Kawre said that the players come from nearby villages of Ramtek and Deolapar.
"When I thought coaching in tribal area, it was very difficult for me to make parents understand the importance of sports in one's life. Despite being tribals less educated, one can see the impact of growing technology in their lives. With the help of various education schemes and awareness programmes, tribal children are lured to schools and are getting aware about sports too. I feel proud that the children are taking the game seriously and with the winning of medals, it will attract more tribal children towards the game," explained Kawre. Coach Kawre believes in the concept of Fit India too. He provides free of cost coaching to as many as 50 children to imbibe the love of sports in them. "Every child in the country should practice one or the other sport to cultivate the culture of discipline, team building, healthy mind and lifestyle,' said Kawre stressing on fitness of an individual. Kawre gives credit of the success of the team to many people who are acting as a messiah for them. "Whenever we go for a championship, Police Department of Deolapar, a few government teachers and an NGO in the small town contribute money for event fees. This noble gesture pours enthusiasm among the players and encourages them to fight.
The zeal increases manifolds to bring recognition for their efforts too," opined an elated Kawre. Kawre takes his classes in two batches. He runs his coaching at the campus of Gupt Gyan Mandir, Deolapar. Mukul Walke, a wushu player, who comes from tribal community said that he was with this team from the very first day and wushu has given him a platform to make career in sports. "Under the training of my coach, I am trying to improve day by day and in every championship I try to give my best. Wushu made it possible for me to reach nationals at school level. Moreover, it was a great moment when I grabbed gold at the event.
It is a dream to play wushu for India and I hope I will make it to the international wushu event," said Walke. Another player Jaya Tekam, who has also won gold in the district championship, said that wushu is getting popular in rural areas and among tribals. In small villages, children are liking this sport. The equipment, wushu fight, wushu events are attracting the players. Remembering her entry into the game, Tekam said, "When I first saw players practising this game, I thought I should also try it once. However, it was very difficult to convince my parents as most players were boys. It took me a week or two but finally I was able to convince my parents. And then there was no looking back. I won a medal in my first district championship in 2019 and that medal changed many a mindset. Now, from the last two years, I am practising on regular basis and aiming to make it to the Maharashtra team in this State Championship," concluded Tekam on a positive note.