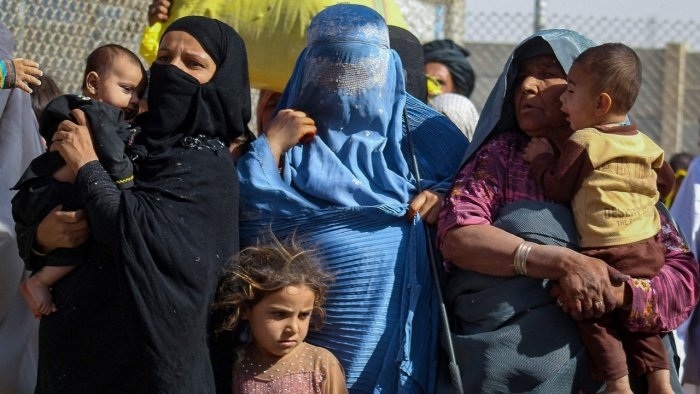 THE description of the Taliban Government under different stages of formation by four of India's top former diplomats is on the mark when they say that whatever is happening in Kabul is nothing but putting 'old wine in a new bottle'. Considering the cumulative experience these four -- Mr. K. Natwar Singh, Ms. Meera Shankar, Mr. Anil Wadhwa, and Mr. Vishnu Prakash -- bring to the table, their assessment of the Afghan situation is critical to Indian thinking on the issue. Factually, this assessment only endorses the general impression higher strata of India's foreign policy handlers has been carrying right from Day One since the eruption of Afghan crisis about three weeks earlier. Most naturally, therefore, this assessment contains a word of caution for the Government to take cautious steps while dealing with various facets of the continually-evolving Afghan situation.
Of course, the Pakistan imprint is more than visible on the activities related to government formation in Kabul. Unqualified statements, too, are surfacing about how Pakistan's spy agency Inter-Services Intelligence (ISI) is trying to dominate the Taliban narrative. And now has come the statement that the Taliban would follow stringent traditional Islamic laws -- again indicating what kind of world order the new Afghan regime would be looking at. For, no matter all the disclaimers by Taliban in this regard, it is obvious that there is little Islamic in what the terror-conglomerate is vouchsafing about. And it is at this point that keen watchers of the Afghan situation realise that Pakistan still does not actually occupy the centrestage in Kabul in any manner. This can be interpreted as Pakistan's effort to have its foot in the door of every Taliban activity, though with only a limited success.
For, the Taliban is not at all an outfit that takes its instructions from anybody else. It also does not have a genuinely Islamic agenda, but favours only a political definition of Islam -- to suit its terror tool and tactic. These angles well up in the mind following the assessment of the four top former diplomats -- that there is nothing new in whatever the current avtar of the Taliban is doing to firm up its grip on Afghan affairs. For India, this assessment is an endorsement of its sense of realism on Afghanistan, no matter then what other powers such as the United States or Russia or China may think or do. It can be said safely that there is nothing like new Taliban, no matter the claims that India enjoys a special position in the overall scheme of things. Thankfully, New Delhi has never shied away from this realism and has shown courage to raise the issue of legitimacy of whichever entity that would finally control Kabul.
There is something in India's position that the world finds critical to the current developments as regards Afghanistan -- as can be assessed from the visits of diplomatic, security and Intelligence leading lights of different countries to India to discuss related issues with their Indian counterparts -- be it Minister of External Affairs Dr. S. Jaishankar or the National Security Advisor Mr. Ajit Doval. Obviously, the world recognises the strength of the Indian position on Afghanistan and wants to include New Delhi in the larger picture. There, of course, is one more angle that cannot miss notice: The disconcerting reported inclusion of outfits like the Haqqani Network in the new Taliban government now under various stages of formation. For, this belies the Taliban claims that it holds liberal views -- thus endorsing the assessment of the top four former diplomats that the so-called new Taliban is nothing but 'old wine in a new bottle'. But may there be no mistake in carrying an impression that Pakistan is operating through the Haqqani representatives. That is factually incorrect since the Haqqani Network just does not belong to Pakistan in any manner, though Islamabad may be harbouring some misconceptions about its association with that terror outfit. The world does know that Pakistan is a big sponsor of terrorism. But the world also knows that Islamabad has often acted more as a pimp in the larger terror story and not as its director or conductor.