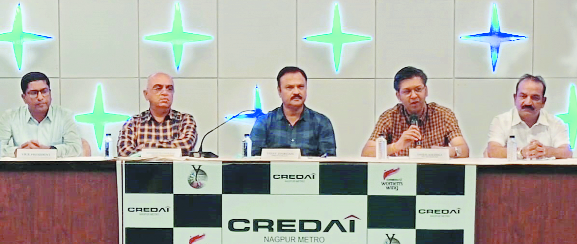 CREDAI Nagpur Metro has urged the home seekers to avail benefit of the Credit Linked Subsidy Scheme under the Pradhan Mantri Awas Yojna at the earliest possible. President of CREDAI Nagpur Metro Vijay Dargan said that the scheme will come to an end on March 31, 2022 and thus those who are planning to buy households in coming days should initiate the process. "If you haven't taken the benefit of this scheme, you have only six months to do so," he said while addressing the press conference held here on Thursday evening.
To boost affordable housing and achieve the vision of housing for all by 2022, the Centre has given an opportunity to every one through the scheme.
In order to receive this subsidy, borrower has to fulfill three simple criteria. One, the borrower's income should be less than Rs 6 lakh, second the borrower shouldn't own a house already and third condition is that a women should be the co-owner of the property.
The scheme is basically for the household comprising of parents and children's below 18 years having annual income up to Rs 6 lakh who don't own a pucca home anywhere in the country.
As per the new guidelines, an adult (above 18 years) earning member whether married or unmarried can be treated as a separate household; also married couple living on rent or house owned by their parents are also eligible to opt for PMAY, provided they are earning.
The subsidy amount is Rs 2.67 lakh. For example: If a person buys a dwelling unit of Rs 15 lakh then after paying 10 per cent i.e. Rs 1.5 lakh the balance loan amount of Rs 13.5 lakh can be borrowed from the financial institutes.
Under PMAY Scheme the subsidy of Rs 2.67 lakh will be deducted from the loan amount and financial institute's interest rate will be applicable on rest of the amount. Monthly installment after the subsidy is received will be reduced by Rs 2,318 effectively.
The buyer can avail the loan from scheduled commercial banks, housing finance companies, state cooperative banks, urban cooperative banks, non banking financial company etc. With the lowest interest rates offered by financial institutes this is an added advantage for all the home buyers.
Lower interest rates translate to lower EMI's for borrowers and over the tenure of the loan may lead to large savings on interest payments. Only 1 per cent GST is applicable onaffordable housing.
The Credit Linked Subsidy Scheme under Pradhan Mantri Awas Yojna is ending on 31.03.2022, it means that your dream home will be costlier by Rs 2.67 lakh. With just 180 days for the CLSS interest subsidy scheme to end, those who wish to buy a home should explore the opportunity.
The press conference was briefed by President Vijay Dargan, Immediate Past President Mahesh Sadhwani, Secretary Gaurav Agarwala, Vice President Ashish Londhe and Vijay Singh Thakur along
with Jethanand Khandwani, Hemal Nadiyana. Joint Secretaries Abhishek Javery,
Vijay Joshi and Pratish Gujarathi, were also present.