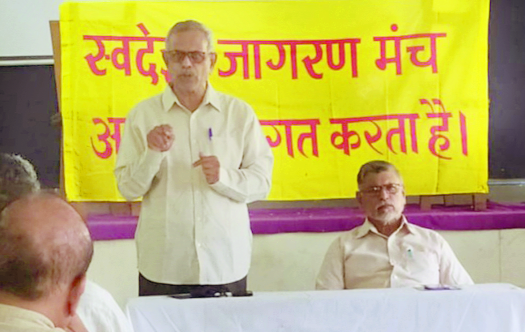 THE Swadeshi Jagran Manch, Vidarbha sucessfully organised an 'Abhyasa Varga' at Pandit Bachcharaj Vyas School, Medical Chowk, Rajabaksha recently.
Purushottam Gurav conducted the first session. Ram Harkare, RSS Vidarbha Prant Sanghchalak in his inaugural address raised the issue of "activists".
He said, "It is important to be consistent and up-to-date in any movement." In the same session, Dhananjay Bhide narrated the development story of the Swadeshi movement. He described the success stories of the Swadeshi movements of the last 30 years.
The second session was conducted by Vidarbha Province Coordinator Shirish Tare. National Council Member Ramtek's Jayant Deshpande shed light on the life of Swadeshi Jagran Manch founder "Rashtrarishi" Dattopant Thengadi.
Arvind Kadbe of OLAVA an NGO provided guidance on water pollution and related works.
National Women's Head Dr Amita Patki took enlightening games and activated all the participants. She asserted that Swadeshi should be adopted in all fields like language, dress, food, home, emotion etc.
In the concluding session, National Joint Co-ordinator Ajay Pataki enlightened the gathering. He asserted the need for all of us to take time out of our personal business and work for Swadeshi Jagran as a matter of duty. He explained with various examples the need to continue working for the cause of Swadeshi in the current situation.
The 'Abhyas Varga' was attended by representatives of Bharatiya Mazdoor Sangh, Rashtra Sevika Samiti and all other allied organisations and activists of Swadeshi Jagran Manch.
Radha Choubey, Swadeshi Jagran Manch Publicity Department compiled the news of the entire programme.