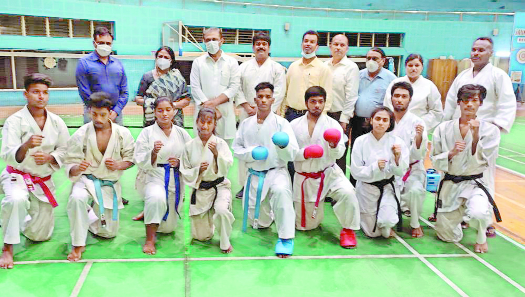 KARATEKAS demonstrated their skills and agility during a demonstration event organised by Mitsuya-Kai India Karate at Divisional Sports Complex in Mankapur, recently.
Sports Head of Anjuman College of Engineering and Technology, Sadar and Treasurer of Karate Maharashtra Sports Association (KMSA) Hanshi Dr Zakir S Khan organised the event.
Shihan Emmanuel Philip, Shihan Pankaj Khandagale, Shihan Rakesh Dhoke and Shihan Shahwar Khan along with other karatekas demonstrated various styles of karate.
The demonstration of Karate was performed by Ivaan Christian, Tarul Barve, Tina Barve, Mrunal Wankhede, Ritik Mudliar, Ritik Soni, Kartik Gupta, Shraddha Allewar, Anis Khurpadi, Altamash Ansari and Sufiyan Mugal.
Maharashtra Sports Minister Sunil Kedar, District Collector R Vimala, Deputy Director of Sports, Nagpur Division Shekhar Patil, District Sports Officer Avinash Pund, Pawan Meshram, Taluka Sports officer and other dignitaries were present on the occasion. Collector R Vimala spoke on the occasion.
Minister Kedar appreciated the karatekas and also lauded the efforts of Zakir Khan in developing karate in the region.