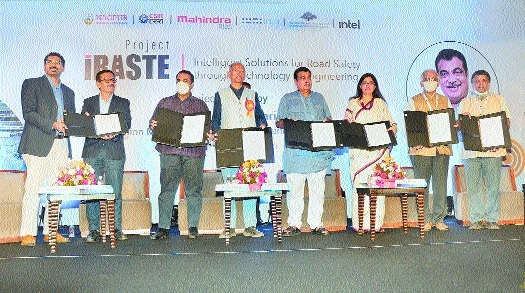 Nitin Gadkari, Union Minister for Road Transport and Highways;
Dr Vikas Mahatme, MP; Dr Shekhar C Mande, DG of CSIR; Satish Chandra, Director of CRRI; Nivrutti Rai, Country Head, Intel India;
Prof P J Narayanan, Director, IIIT-H; Shrikant Dube, Plant Head,
Mahindra & Mahindra (Farm Equipment Sector), and others at the
launch of iRASTE project, on Saturday.
Staff Reporter :
Saturday saw the launch of the ambitious project 'iRASTE' or intelligent Solutions for Road Safety through Technology and Engineering in city. The collaborative initiative developed by Nagpur Municipal Corporation (NMC), Intel India, INAI, IIIT-Hyderabad, CSIR-Central Road Research Institute (CRRI), Mahindra & Mahindra, aims at achieving 'up to 50 per cent decline' in road accidents in Nagpur city. It also aims at 'creating a blueprint for India towards Vision Zero'. The project iRASTE leverages the power of Artificial Intelligence (AI) to redefine road safety with innovative and holistic framework. It focusses on three key aspects -- vehicle safety, mobility analysis, and road infrastructure safety. Under the project, NMC's fleet of vehicles will be equipped with 'collision avoidance technology', which can reduce accidents and near misses 'by up to 60 per cent'. Sensors in these technologies will help map the dynamic risk of the entire road network (grey spot map) for the first time.
Road maintenance agencies can use such information to prevent accident-prone zones (black spots) before they claim lives. Under iRASTE, detailed studies will be conducted to recommend 'engineering fixes' for existing black spots and implement AI-powered system for continuous monitoring of road infrastructure quality. The project aims at re-imagining road safety with the predictive power of AI. Advanced Driving Assistance Systems (ADAS) will offer an economical way to enhance the safety of fleets and road users. ADAS alerts, alongside driver assessments and training can improve driver performance. Mobility analysis will continuously monitor dynamic risks of the entire road network to define grey and black spots (areas that are high risk or accident-prone). Preventive maintenance of such stretches will avert black spots before they claim lives, read an official statement about the project. Nitin Gadkari, Union Minister for Road Transport and Highways, inaugurated the project on Saturday in Nagpur.
Dr Vikas Mahatme, Member of Rajya Sabha; Dr Shekhar C Mande, Director General of CSIR; Satish Chandra, Director of CRRI; Nivrutti Rai, Country Head, Intel India; Prof P J Narayanan, Director, IIIT-H; Shrikant Dube, Senior General Manager and Plant Head, Mahindra and Mahindra (Farm Equipment Sector), Nagpur; Deepak Kumar Meena, Additional Municipal Commissioner, and other dignitaries were prominently present. Speaking on the occasion, Gadkari said that around 250 persons died in 1,500 road accidents in Nagpur city every year. "It will be wrong to blame the driver of the vehicle involved, every time. Road engineering, road quality etc also are to be factored in. Public Works Department, Transport Department, Police Department, and social organisations should join hands and contribute towards reducing the road accidents," he said. Due to increase in 'crash severity ratio', the proportion of deaths in road mishaps is greater in Nagpur than that in Mumbai, he pointed out.
Every year, 1.50 lakh road accidents are reported in the country. By the year 2025, this number is to be reduced by 50 per cent, he added. Nivruti Rai said, "Technologies such as AI will play a transformational role in enabling smarter and safer vehicles, roads and drivers." Prof P J Narayanan informed the audience that through INAI, IIIT-Hyderabad wanted to transform academic expertise into population-scale impact. Dr Shekhar C Mande, Director General of CSIR, said that CSIR- CRRI had completed road safety audit of almost 9,000 km and would provide necessary technical guidance in iRASTE project. "This project being in Nagpur will certainly be a milestone in tackling the issue of road safety in India through intervention of advanced technologies and can be emulated in different cities as well," he observed.