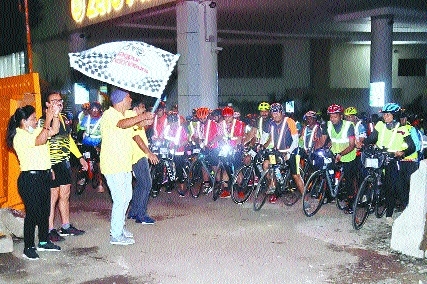 A group of cycle riders are ready to embark on their journey as a guest flags off the 200km brevet.
Sports Reporter :
195 riders successfully completed a 200km brevet organised by Nagpur Randonneurs to mark 100 yrs of Audax
NAGPUR created cycling history on Sunday when 195 riders successfully completed a 200km brevet organised by Nagpur Randonneurs to mark 100 years of Audax. A brevet is a minimum 200km self-supported ride held on a pre-decided course with checks, to be completed within a specified time limit. Other brevet distances are 300, 400, 600, 1000 and 1200 km. The first brevet was held in Paris on September 11, 1921. The September 12 brevet in Nagpur saw an historic 241 registrations, turning the event into a 'Kumbh Mela' of cycling. Of these 195, including 22 women and 80 first-timers, finished the ride in the specified 13.5 hours to earn the title of a 'Randonneur'.
Municipal Commissioner B Radhakrishnan, Amravati Additional Divisional Commissioner Sanjay Pawar, ultra cyclist Amit Samarth were among the finishers. Tanmay Garg was the youngest to complete the BRM at 18 years of age while Bhupendra Arya was the oldest finisher at 77. The brevet, which started at Freedom Park Metro Station, went to Peepalpani beyond Pandhurna in Madhya Pradesh. Apart from the turn point, the ride had three manned checkpoints at Waheguru Dhaba Saoner, Balaji Dhaba Pandhurna and Nandraj Dhaba Heti. Riders received nutrition and hydration support at all checks. Among the riders were couples Aarti and Abhay Kelkar, Swati and Ajay Kulkarni, Sadhana and Amit Mujumdar, Deepika and Jagdish Kukreja, Nikhalesh and Rashmi Nilawar, Parag and Archana Tapre of Akola and Nisha and Chetan Thakur. Father-son duo of Sunil and Sumedh Laghate also completed the ride. Suretech Hospital Jamtha provided ambulance support, while Nagpur Metro helped with the start and end venue. The BRM saw participation of large groups from Amravati, Warud, Chandrapur and Jabalpur.
There were also riders from Navi Mumbai, Bengaluru, Bhopal, Akola and Sewagram. Two riders — Parag Bhonde of Warud and Pravin Raut of Nagpur — walked the last 10 and 7 km with a broken derailleur and a broken chain, respectively, to complete the BRM in time. A nine-member team of Nagpur Randonneurs comprising ride responsible Vikas Patra, Jitesh Thakkar, Aniruddha Kulkarni, Sneha Darodkar, club representative Aniruddha, Yogesh Dapurkar, Ajay Kulkarni, Amol Ramteke and Urmila Dhanke, planned and executed the highly successful event. The team was supported by volunteers Samir Lohi, Mangesh Pahade, Amogh Palande, Aarti Kelkar, Swati Kulkarni, Jyoti Patel, Sneha Damle, Dipti Patra, Didar Singh Sokhi, Surjeet Singh Bhasin, Milind Chittawar, Rajesh Chansoriya, Parth Dapurkar and Ankita Pusadkar.