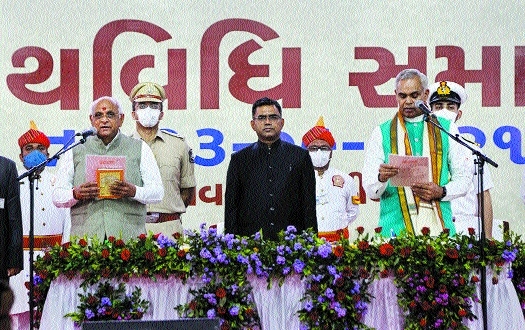 GANDHINAGAR :
FIRST-TERM MLA Bhupendra Patel was on Monday sworn in Gujarat Chief Minister, two days after Vijay Rupani's surprise exit from the post, a year ahead of the Assembly polls. Patel (59), unanimously elected BJP legislature party leader on Sunday, was sworn in as the State's 17th Chief Minister by Governor Acharya Devvrat at a simple ceremony at Raj Bhawan. Union Home Minister Amit Shah, Haryana CM Manohar Lal Khattar, Madhya Pradesh CM Shivraj Singh Chouhan, Goa CM Pramod Sawant and Karnataka CM Basavaraj Bommai were present. Devvrat and Shah congratulated Patel after the ceremony. Shah was the first to congratulate Patel after he took the oath. Patel's predecessor Vijay Rupani and former Deputy Chief Minister Nitin Patel were among those present at the ceremony. As decided by the party, only Patel took the oath. The Council of Ministers will take oath during the next few days after their names are finalised, BJP sources said. Prime Minister Narendra Modi congratulated Patel on taking the oath as CM of Gujarat. "Congratulations to Bhupendra Bhai on taking oath as CM of Gujarat.
I have known him for years and have seen his exemplary work, be it in the BJP Organisation or in civic administration and community service. He will certainly enrich Gujarat's growth trajectory," he tweeted. "During his five years as CM, Vijay Rupani Ji has undertaken many people-friendly measures. He worked tirelessly for all sections of society. I am certain he will continue to contribute to public service in the times to come," Modi added. Patel on Monday held a high-level meeting with top officials to review the flood-like situation in some parts of the Saurashtra region and instructed the authorities to airlift stranded people in rain-hit Jamnagar district.
Heavy rains battered parts of the Saurashtra region on Monday, leading to the death of three people in Rajkot and Jamnagar as rivers overflowed and low-lying areas got flooded, prompting the authorities to issue alerts and deploy NDRF and SRDF teams for evacuation and relief. According to Jamnagar district's disaster management wing, the Indian Air Force (IAF) has been requested to airlift people stranded in some of the villages of Kalavad and Jamnagar talukas. Bhupendra Patel called the Jamnagar District Collector and asked him to expedite rescue operations with the help of NDRF (National Disaster Response Force) and shift stranded people to safer places, said the release. The CM also instructed the Rajkot Collector and Rajkot Municipal Commissioner to move people living in low-lying areas to safer places. Meanwhile, IAF helicopters were pressed into service in Jamnagar and Rajkot to airlift people, district authorities said.