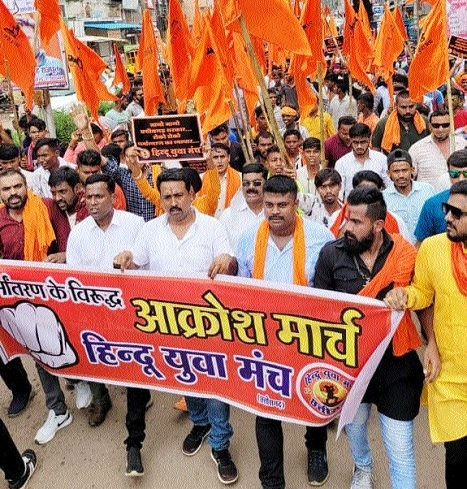 The foot march taken out by Hindu Yuva Manch.
Staff Reporter :
DURG,
Hindu Yuva Manch has protested against the increasing cases of conversion in Chhattisgarh and activities that hurt the religious sentiments of Hinduism. On Monday the protesters reached the Collectorate in large numbers in the form of a rally that commenced from Agrasen Chowk. During this, they shouted slogans holding placards and saffron flag in their hands. The office-bearers of Hindu Yuva Manch alleged that Christian missionaries are converting people of Hindu religion by offering them money. Despite its complaint, legal action is not being taken against the heretics and the culprits. As such conversion is going on in urban and rural areas openly and no action is being taken against them. The foot march was taken out under the leadership of President Shrikumar Nair, State Convenor Govindraj Naidu, State General Secretary Rajesh Sharma and Councilor Arun Singh. In view of the crowd of protesters, the police had made elaborate security arrangements around the collectorate premises, the protesters tried to enter the collectorate to hand over the memorandum by crossing the barricades, but they were not allowed to do so by the security deployed on the spot. Representatives of Hindu Yuva Manch here submitted a Memorandum to Deputy Collector Jageshwar Kaushal in the name of Governor and apprised him about their demand.
District Planning Committee member and Councilor Arun Singh has said that ever since the Congress government came in the state the cases of conversion is increasing rapidly. Hindu Yuva Manch Program in-charge Mangal Singh Rajput said that after getting problem the Manch complained it to the police but no action was initiated. Action should be taken by registering FIR against those responsible for conversion. Those present during the foot march include Sunil Vahane, Raja Devangan, Amit Purohit, Deepak Rajput, Hitendra Rajput, Rakesh Tiwari, Shivam Singh, Rahul Jain, Suresh Sahu and a large number of activists.