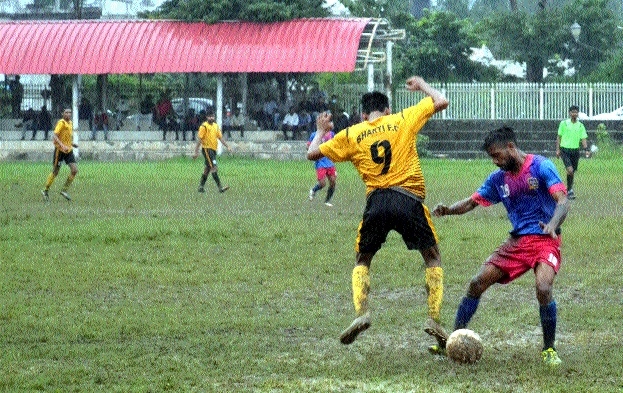 Players of Bharti Club and Young Khalsa trying to get control over ball during a league match. (Pic by N K Budhodi)
Sports Reporter :
Jabalpur Boys and Bharti Club teams won their matches in the ongoing Super Division Club League Football Tournaments, on Monday. The tournament is being played under the auspices of Jabalpur District Football Association at Shivaji Ground, Sadar. First match was played between Genius Club and Jabalpur Boys teams. IN the exciting match, Jabalpur Boys registered victory over the opponent by the lead of 4 - 2 goals. Earlier, Genius Club's Elan brought first goal lead in 6th minute of the game but Ankur leveled the score for Jabalpur Boys in 28th minutes. Before the defenders of Genius Club managed to strengthen their defence, Santosh Rajak netted second goal for Jabalpur Boys in 31st minute. First half ended with 2-1 goals lead of Jabalpur Boys.
Second half started with changed game plan of Genius Club and its star forward Ankit netted the equalizer in 61st minute. Thereafter, strikers of both the teams worked hard but Vishal Thapa and Rahul netted two consecutive goals and brought 4- 2 goals victory for Jabalpur Boys. Second match was played between Bharti Club and Young Khalsa teams. In the one-sided match, Bharti Club registered victory over the opponent by the lead of 5 - 1 goals.
Right in beginning of the game, defenders of Young Khalsa mistakenly placed the ball into their own goalpost and Bharti Club got single goal lead in 8th minute. Thereafter, Amit Swami and Arshad netted single goal each and brought 3 – 0 goals lead for Bharti Club. In second half of the game, Young Khalsa's Ishant came in action and scored maiden goal for his team in 53rd minute. On the other hand, Amit Swami and Shreyash scored single goals and brought 5 – 1 goals victory for their team.Today's fixture: Rajak Club V/s Khalsa Boys, 2 pm Lions Club V/s Police Boys, 3:30 pm.