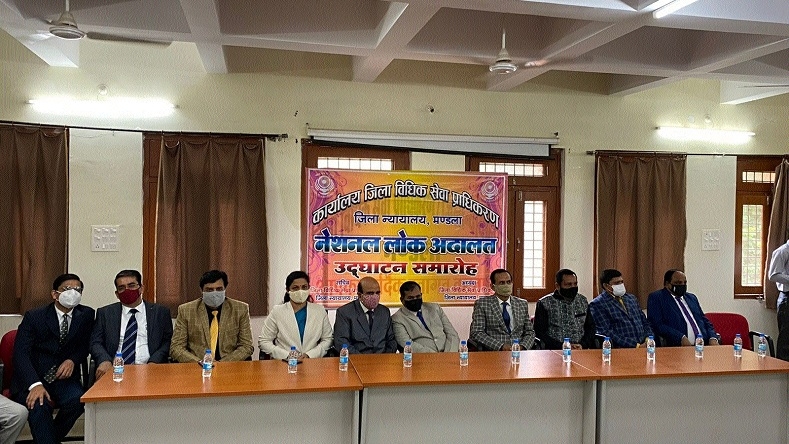 Eminents seated on the dais during the inauguration ceremony of Lok Adalat organised at Mandla.
Our Correspondent :
MANDLA,
National Legal Services Authority (NLSA) New Delhi, National Lok Adalat was organised on September 11, in the entire country as per the instructions of MP State Legal Services Authority, Jabalpur. In this series, National Lok Adalat was organised in Mandla under the guidance of District Judge/President District Legal Services Authority, RS Sharma and under the direction of District Judge/Secretary District Legal Services Authority, Dr. Preeti Srivastava. Lok Adalat was inaugurated by District and Sessions Judge, R S Sharma by performing Saraswati Puja.
In his inaugural address, Sharma gave information about cases to be resolved under Lok Adalat and purpose of organising Lok Adalat. In Lok Adalat, all types of criminal cases, civil cases, electricity cases, motor accidents, maintenance, check bounces, labour, revenue (pending cases in District Court and honourable High Court) family matrimonial matters along with court cases Prelitigation cases of banks, municipalities, electricity were resolved. District Judge and Secretary, District Legal Services Authority, Dr Preeti Srivastava informed that 18 benches have been constituted for resolving all negotiable cases for National Lok Adalat, District Court Mandla and Tehsil Court, Nainpur, Niwas and Bhua-Bichhiya National Lok Adalat. In which the resignation was done on the basis of mutual reconciliation. She said that in the National Lok Adalat held on September 11 in prelitigation cases, 110 cases out of 2,485 cases of the bank were resolved in which recovery amount of Rs 3917,117 was received.
Out of 388 cases of Electricity Department, 90 cases were disposed of in which recovery amount of Rs 5,53,606 was received. Similarly, out of 107 municipal cases, 27 cases were disposed of, in which recovery amount of Rs 37,961 was received. Similarly, 317 cases of negotiable criminal/civil nature were disposed of in pending court cases, in which Rs 87,51,609 was recovered in 138 NIACT cases and 18583779 was awarded in claim cases. Secretary, Preeti Srivastava expressed gratitude to all the judges, employees, advocates and parties for the successful organisation of Lok Adalat.