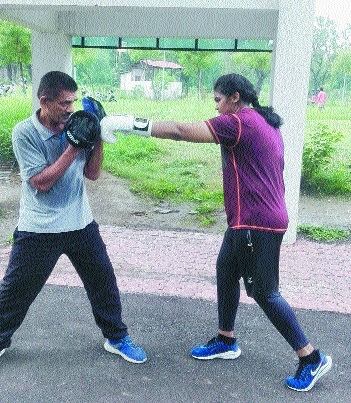 Ganesh Purohit training city's top pugilist Alfiya Pathan.
Principal Correspondent :
SENIOR boxing coach of Maharashtra Ganesh Purohit has been appointed as the chief coach of Maharashtra State men's boxing team for the forthcoming National Boxing Championship. The competition is going to be held at Bellary, Karnataka, from September 14 to 21. Members of Nagpur District Boxing Association wished Purohit and Maharashtra team luck, informs a release issued by Porus Kotwal, Secretary, Nagpur District Boxing Association. Purohit, who hails from Nagpur, is instrumental in imparting coaching to many boxers of the region. He is coach of India boxer Alfiya Pathan who is also a AIBA Youth champion.