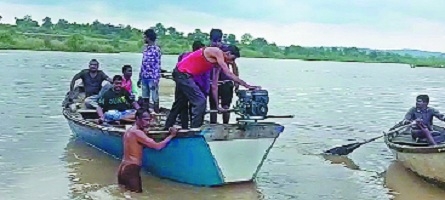 Rescue operation going on after boat capsized in the Wardha river in Amravati district. (Pic by Awdhut Shendre)
Our Correspondent :
Warud,
Rescue teams fish out three bodies while search for the others is on
Tragedy struck Warud tehsil in Amravati district on Tuesday after as many as 10 relatives and an oarsman met watery grave in Wardha river in a boat capsize incident. The deceased include a 2-year-old girl. Till the filing of this report the rescue team had recovered three bodies while search for the others was on. Meanwhile, two persons from the family managed to swim back to safety. As per details, Matre family members from Gadegaon village in Warud tehsil and gone to Zunj village to attend post-death tenth day ritual of a relative on Monday. On Tuesday morning, they decided to visit the temple at Zunj as well as the waterfall. Around 10 am they got into a boat and were headed towards Lord Mahadev Temple by crossing the Wardha river.
The boat had 13 people in it including Narayan Bhomaji Matre (45), the oarsman from Gadegaon, Vanshika Shivankar (2), Teosaghat, Karan Khandale (28), Loni, Nisha Matre, Gadegaon, Piyush Matre, Gadegaon, Poonam Shivankar, Teosaghat, Shyam Matre (25) and Rajkumar Uike (48), both from Gadgegaon and five persons from Tara Sawanga village in Ashti tehsil of Wardha tehsil. Those five included Ashwini Khandale, Vrushali Waghmare, Atul Waghmare, Aditi Khandale and Mohini Khandale. All were related to each other. When the boat reached middle of the river, probably not able to take the weight, it suddenly started going down. Panic reigned supreme as most of the passengers did not know how to swim. Only two of them, Shyam Matre and Rajkumar Uike, managed to swim back to the banks of the river and they alerted the others. Police were informed and police, administrative and rescue team rushed to the spot and started search operation.
Bodies of oarsman Narayan Matre (45), Vanshika Shivankar (2) and Kiran Khandale (28) were found. It may be mentioned here that National Disaster Response Force from Nagpur and State Disaster Response Force Squad along with members of District Search and Rescue team from Amravati are looking for the other on war footing. Police personnel,staff from Tehsil Office, Gram Panchayat and from Fisheries Department are also helping the rescue team. Amravati Collector Pavneet Kaur has given necessary instructions to the concerned departments regarding the search and rescue operation. MLA Devendra Bhuyar, former minister Dr Anil Bonde, Sub-Divisional Officer Nitin Hingole, Sub-Divisional Police Officer Kavita Phadtare and Talathi S K Golwal, along with PI from Benoda Police Station Milind Sarkate, PSI Dilip Shrirao, PSI Ganpat Kupulwar, ASI Wasankar and others reached the spot immediately after getting information.