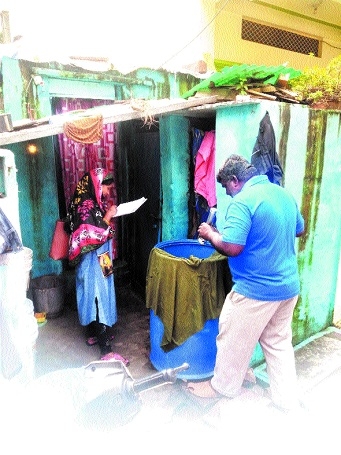 BMC employee checking vessel used to store water during dengue survey on Tuesday.
Staff Reporter :
To protect citizens from mosquito borne diseases, particularly dengue, Bhopal Municipal Corporation is doing fogging through machines and at the same time, it is conducting door to door survey to find out dengue larvae. BMC team is going to homes and checking utensils used to store water and other vessels lying unused at roofs and gallery of houses. BMC employees are asking people not to allow storage of water for long time as it becomes breeding place for mosquitoes. They are advising people to ensure proper cleanliness in coolers, pots used to grow flowers, old tyres etc. In the meantime, BMC officials fined people in 67 cases and recovered sum of Rs 6,800.
Dengue survey was done and chemicals were sprayed in Bairagarh Kalan, Adarsh Nagar, Bainskhedi, Nai Basti, Vijay Nagar, Lal Ghati, Barela village, Koh-e-Fiza, Id Gah Hills, Vajpayee Nagar, Ashok Colony, Noor Mahal Colony, Sanjay Nagar, Shanti Nagar, Israni Market, Teelajamalpura, Nagar Nigam Colony, Semra, Hawkers Corner, Ashoka Garden, Khatiq Colony, Subhash Colony, Baghmugalia, Shankar Nagar, Shakti Nagar, Pragati Nagar, Subash Colony, Piplani, Sonagiri, Anand Nagar, Ayodhya Nagar etc. Notably, dengue cases are gradually increasing and Bhopal is one of the districts affected by dengue in State.