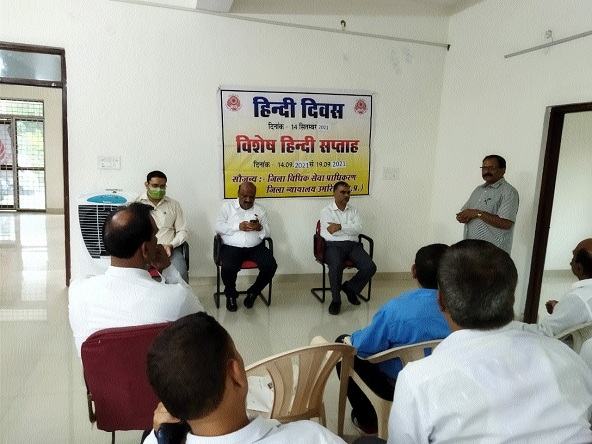 A guest speaking at the Hindi Diwas programme.
Our Correspondent :
Umaria,
In the honour of 'HINDI', a programme was organised at the ADR Centre Umaria. Under the able guidance of Principal District Judge and Chairman DLSA Umaria Sanat Kumar Kashyap members from legal fraternity expressed their views on the use of Hindi in legal field and proceedings. President District Bar Association, Umaria Pushpraj Singh said that language is the most important medium of conversation and forms unique aspect of one's personality. Giving emphasis on the use of Hindi in legal proceedings he urged to use Hindi by legal fraternity.
Secretary DLSA Umaria Rajesh Kumar Tiwari threw light on the adoption of the Hindi language as official language under the constitution. He said on 14 September 1949 the constituent assembly adopted Hindi as official language and from 14 September 1953 this day is observed as Hindi Day. He said Hindi is very scientific language and pronunciation of each alphabet of the language is unique. Later, participants present in the event also expressed their views on challanges before the Hindi language. The programme was conducted by District Legal Aid Officer B D Dixit.