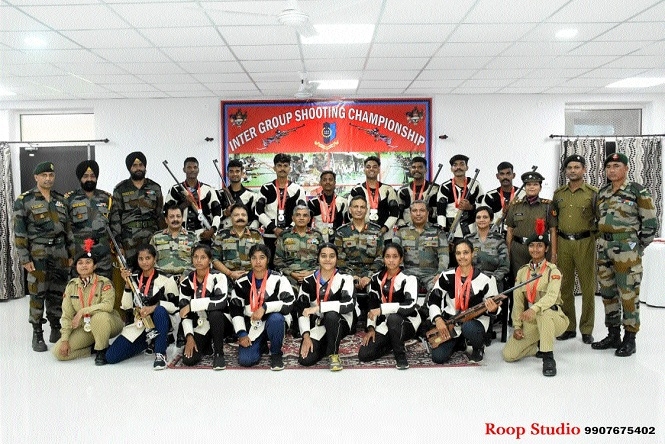 The selected cadets along with the officials of 1MP Battalion NCC Jabalpur.
Staff Reporter :
1MP Battalion NCC Jabalpur has organised the Inter-Group Shooting Competition-2021 at Khamariya-based Sabera Basera Hostel from September 9 to 15. The NCC cadets from Jabalpur, Raipur, Gwalior, Sagar, Bhopal and Indore groups enthusiastically participated in the competition.
The shooting competition was organised with two different types of rifles. In which cadets from Jabalpur group proudly obtained first position. The cadets who achieved first position include Jyotiraditya Sanghi, Vishal, Shivam Patel, Tanisha Soni from St Aloysius College Jabalpur, Kajol Prajapati from D N Jain College Jabalpur. Other cadets who participated in the competition included Jyoti Patle from Government PG College Balaghat, Nitendra Singh Tomar from Gwalior group, Aarti and Sandhya Dodiya from Indore group, Niranjan from Raipr group and Ajay Parihar from Bhopal group. Group Commander, Brigadier R K Chikkara SM, Group Training Officer, Colonel Mani Pandey, Deputy Colonel PH Banafar, Colonel Amit Gupta, Commanding Officer, Lieutenant Colonel Sanjay Singh, Camp Commandant, Major Arundhati C Shah, Deputy Camp Commandant, supportive staff including JCO and NCO awarded 24 awards to the selected cadets in different categories. The selected cadets will get the opportunity to participate in the Inter-Directorate Sports Shooting Championship 2021 to be organised in Indore on September 23. They will leave for Indore from Jabalpur on September 15.