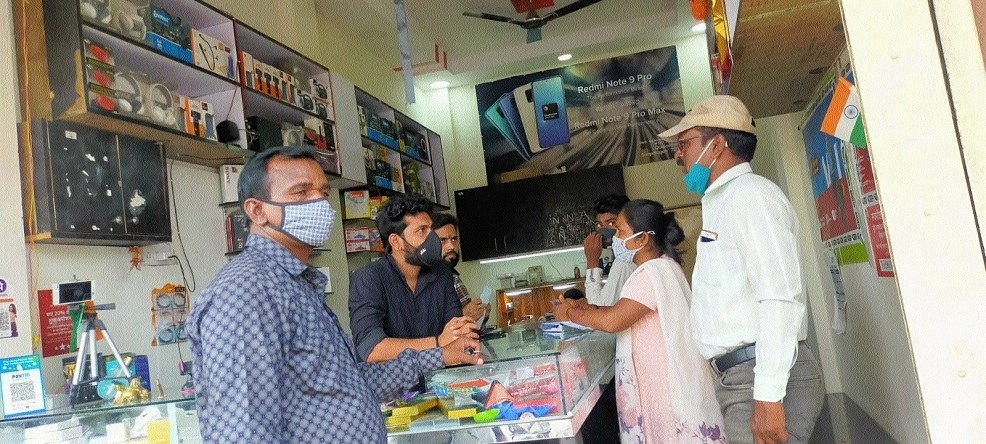 JMC officials taking action against owner of a mobile shop for not adhering to hygiene rules.
Staff Reporter :
The Jabalpur Municipal Corporation (JMC) is continuously taking strict action against those spreading uncleanliness and allowing crowd unnecessarily at shops. Under such an action, the Health Department of the JMC realised heavy fine from owner of a shop in Gorakhpur area. Senior officials informed that during inspection they noticed that an employee of Shri Krishna Mobile shop, located in Gorakhpur was throwing garbage into drain. The team members immediately reached the shop and realised a spot fine of Rs 1000 from the shop owner.
They also warned him to shun such irresponsible practice in future or else would be fined heavily. Senior officials said if businessmen, shopkeepers and vendors do not stop creating uncleanliness and avoiding crowd at their establishments, the Municipal Corporation would realise heavy fine from the erring people. Officials said following the direction of Municipal Commissioner Sandeep G R the Health Department is carrying out special drive to maintain cleanliness in the city. Besides, it is also requesting businessmen and shopkeepers to extend support to the JMC in maintaining cleanliness by avoiding uncivilized activities like throwing garbage on roads or in drains. They said the Health Department is also conducting drive and realising heavy fine from erring people. Chief Sanitary Inspector Radha Pawar, Supervisors were present during the drive.