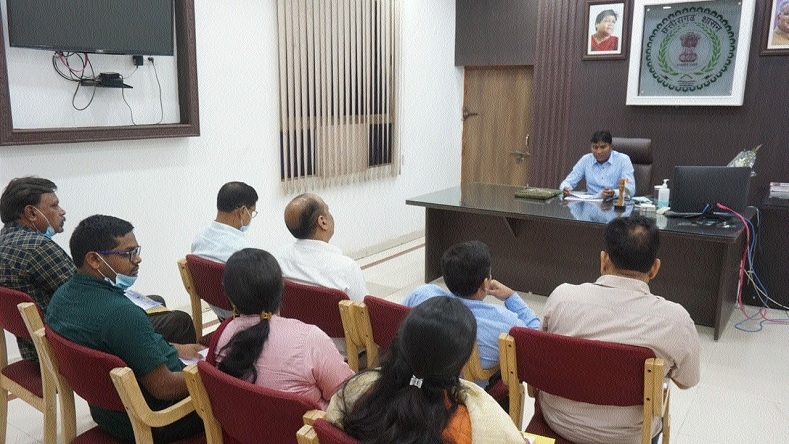 After assuming charge, the BMC Commissioner Prkash Sarve interacting with zone commissioners.
Staff Reporter :
BHILAI,
The Bhilai Corporation Commissioner (BMC) Prakash Sarve, reviewed the departmental works as soon as he took charge on Tuesday and directed that all the zone commissioners should inspect their respective areas continuously during the morning visit. He said that sanitation, prevention of water-borne diseases, pure drinking water, electricity and basic problems should be addressed on paramount importance. The Commissioner inquired about the arrangements for the public problem redressal camp to be organised from September 15. Instructions have been given to inform the applicant about the quality and disposal of the application received. Along with this, he had a detailed discussion with each zone commissioner on the major works going on in their zone area.
The BMC Commissioner, Sarve said that work with a target, fix the deadline for every works and complete the progressing works at the earliest. CM Schemes, land of EWS, Jan Choupal, PGN, Jandarshan, 14th Finance Commission, MP Fund, MLA Fund, works not receiving NOC from BSP, Gothan, Godhan Nyay Yojana, pension, prevention of water borne diseases, dengue control and information was also taken on subjects like mobile medical unit, AMRUT mission, encroachment, health, revenue. He told the zone commissioner that it is the rainy season and keep a special watch on such areas by marking the waterlogged places, so that there should be no water logging situation anywhere. BMC Commissioner Sarve asked the Zone Commissioner about the disruption in any major works, on which the Zone Commissioner, Pooja Pillay informed that the demarcation process for the channelization work of big nullah near Indu IT Kohka is not yet started.
In reply, he directed the Tehsildar of Bhilai Corporation, Yogendra Verma to get the demarcation done immediately. In the review meeting, Additional Commissioner Ashok Dwivedi, Superintending Engineer U.K. Dhulendra, Superintending Engineer in-charge B.K. Devangan, Deputy Commissioner Sunil Agrahari and Narendra Banjare, Nehru Nagar Zone Commissioner Manish Gaikwad, Vaishali Nagar Zone Commissioner Pooja Pillay, Mother Teresa Nagar Zone Commissioner Preeti Singh and Shivaji Nagar Zone Commissioner Amitabh Sharma, Building Permission Officer Himanshu Deshmukh, Executive Engineer Sanjay Sharma were present.