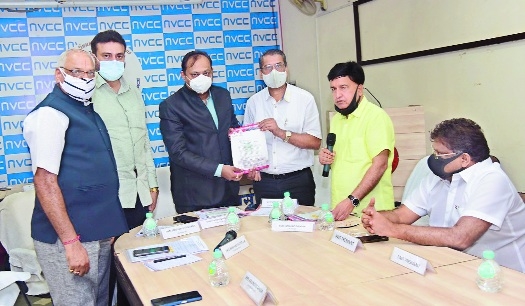 Trustees of NIT - Sanjay Bangale and Sandeep Itkelwar with the office-bearers of NVCC.
Business Bureau :
The traders once again raised voice against the notices served to them by the Nagpur Metro Region Development Authority (NMRDA) asking for development charges as per the revised rates. The Nag Vidarbha Chamber of Commerce (NVCC), representing more than 13 lakh traders spread across the region, took up the matter with the newly appointed Trustees of the Nagpur Improvement Trust (NIT) - Sanjay Bangale and Sandeep Itkelwar. The office-bearers of the chamber were interacting with Bangale and Sandeep during their recent visit to the NVCC office at Civil Lines. At the outset, President of the chamber Ashwin Mehadia, welcomed Bangale and Itkelwar by giving them a shawl, shriphal and flower bouquet. Mehadia also handed over a charter of demands to the visitors highlighting various issues of the traders.
He called the notices served by the NMRDA is a serious issue for the traders and industries located in the adjoining rural areas. "Due to the new rules issued by the NMRDA, employment of lakhs of people in the rural areas is in great danger," he said. Giving detailed information about the NMRDA problem to Bangale and Itkelwar, the convener of NMRDA committee of the Chamber and IPP Hemant Gandhi said that the Sarpanch or Tehsildar of their areas related to the construction work of industries established by NMRDA in rural areas before the year 2018. "The NMRDA was established in the year 2018 while most of the industries and businesses in rural areas adjoining Nagpur are being operated for 25-30 years with Govern- ment permission."
However, the NMRDA authorities are now terming the permissions given by the concerned sarpanchs or tehsildars illegal and asking for new certificates," Gandhi pointed out. For carrying out construction work of industries in the rural areas, certificates were issued to the industries by the local Sarpanch or Tehsildar. But in the current scenario, the NMRDA is collecting Rs 120-125 per square foot as development to which the NVCC office-bearers are opposing. The traders body urged Bangale and Itkelwar, being public representatives and NIT trustees, to take special cognizance of the issue. The NIT Trustees interacted with the NVCC office-bearers and gave patient hearing to their demands and issues. They also assured to help the traders in every possible way to resolve the problem. Secretary of the chamber Ramavatar Totla conducted the proceedings of the meeting while Joint Secretary Umesh Patel proposed the vote of thanks.